In the third iteration of GG quarterly DIgest, we share our achievements, such as partner base growth, new GEOs to run traffic on, event participation, and our winter promos. Let's go!
GG internal updates
The main Winter news from Golden Goose is our updated Telegram group!
In case you've missed it, on December 22nd, we radically changed the group's structure, adding topics and thematic groups. Now, our Telegram channel has topics dedicated to offers, technical works, regions, and a place to ask our managers any questions.
Our Telegram channel has brought us many new leads and shown great activity growth thanks to our new community manager. Jane, you're the best!
On February 2nd, we launched our super helpful Telegram bot for technical notifications. We share the most critical technical updates on offers (for example, when an offer is switched off and on.)
On February 15th, our Telegram channel reached one thousand subscribers, and we celebrated the event by providing our affiliates increased rates on top South Africa offers.
Please pay attention: Golden Goose has started to hide some offers and share them by request. You can discuss the matter with your manager so we can provide you with exclusive offers.
The stats for winter show that our regular partner base growth increased by 20%. The number of reactivated affiliates increased by 17%. Thanks to our marketing team, this was possible because our ad campaigns have shown excellent results. We also allow our partners to scale their traffic, influencing our actively working affiliates.
New and top GEOs
This winter, we added exclusive GEOs for our affiliates to run traffic!
Cameroon
Cambodia
Maldives
Jamaica
Our TOP GEOs for this winter are: 
Indonesia
Kenya
Ivory Coast
Nepal
Jordan
Saudi Arabia
Colombia
United Arab Emirates
Here's a map of our geographical extension: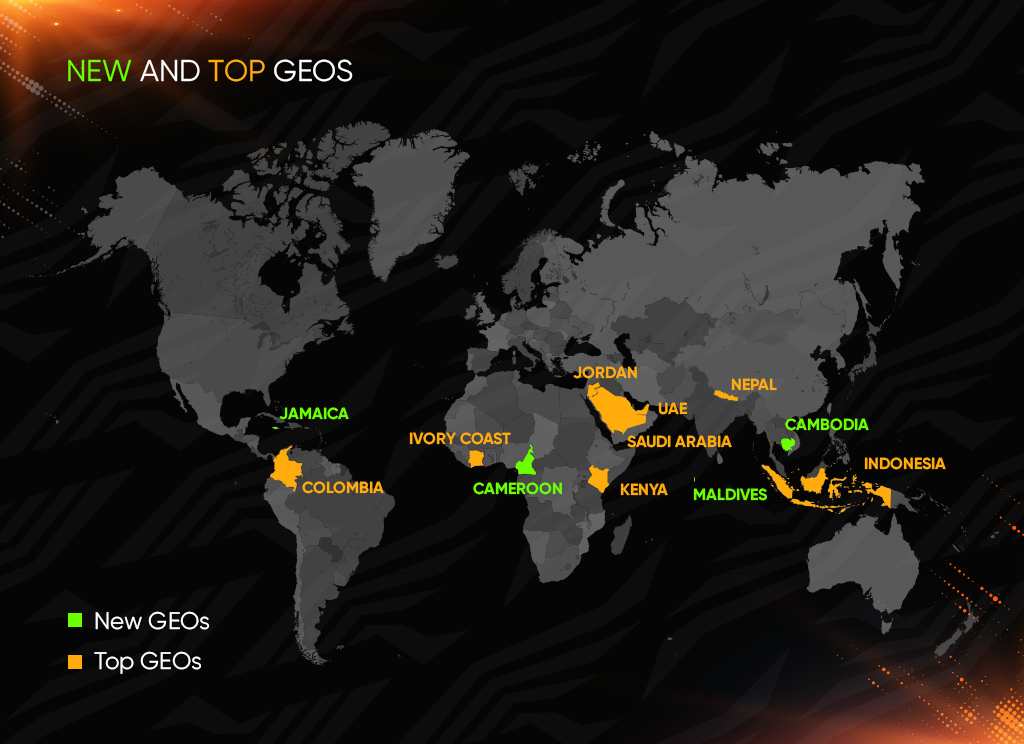 GG Blog Updates
Because of the long winter holidays and the short month of February, our blog had few updates. Yet, we managed to publish several highly helpful and educational articles, including a complete guide on every ad format used in mVAS affiliate marketing, and an article with FAQ, where you can find answers to the most popular questions from our affiliate partners.
GG in affiliate events 
At the end of February, our outstanding Business Development Manager, Kristina Nevorotova, represented the Golden Goose team at the Telemedia8.1 conference. The event, which lasted for two days, was full of pleasant and productive meetings with our friends and colleagues among our advertisers. Here you can read our impressions on Telemedia8.1.
This February, we were actively preparing for the Affiliate World Dubai conference, a major affiliate marketing event. Our team, represented by eight people, including our founders, Head of Product, and Affiliate and Advertising Heads and team leads, made a splash at the conference with our awesome merch and networking abilities. 
Since the event took place at the beginning of March, we'll tell you about it in our Spring Digest, so stay tuned!
GG PR and communications
Winter promos
What about promos organized by Golden Goose?
We held our December New Year Marathon, when affiliates were receiving virtual golden eggs for their subscription volume. We announced 21 winners live in our Telegram group on January 11th, whose numbers were lucky to be picked. The winners received decent payments on their accounts, and the primary winner got $2K.
Traditionally, before the NY, advertisers aren't so generous with new offers and budgets as traffic decreases. However, everything radically changed starting in January, and the subscription volumes increased. Some new GEOs became prominent, and Golden Goose was able to sign contracts with advertisers for the most lucrative offers, which kickstarted in the top-3. 
This means you need to work with us to get efficient new offers! We actively develop our sales direction to find new advertisers with super profitable offers for our affiliates.
An afterthought
These are the major updates from the Golden Goose team this time.
We wish you great conversions and good luck!