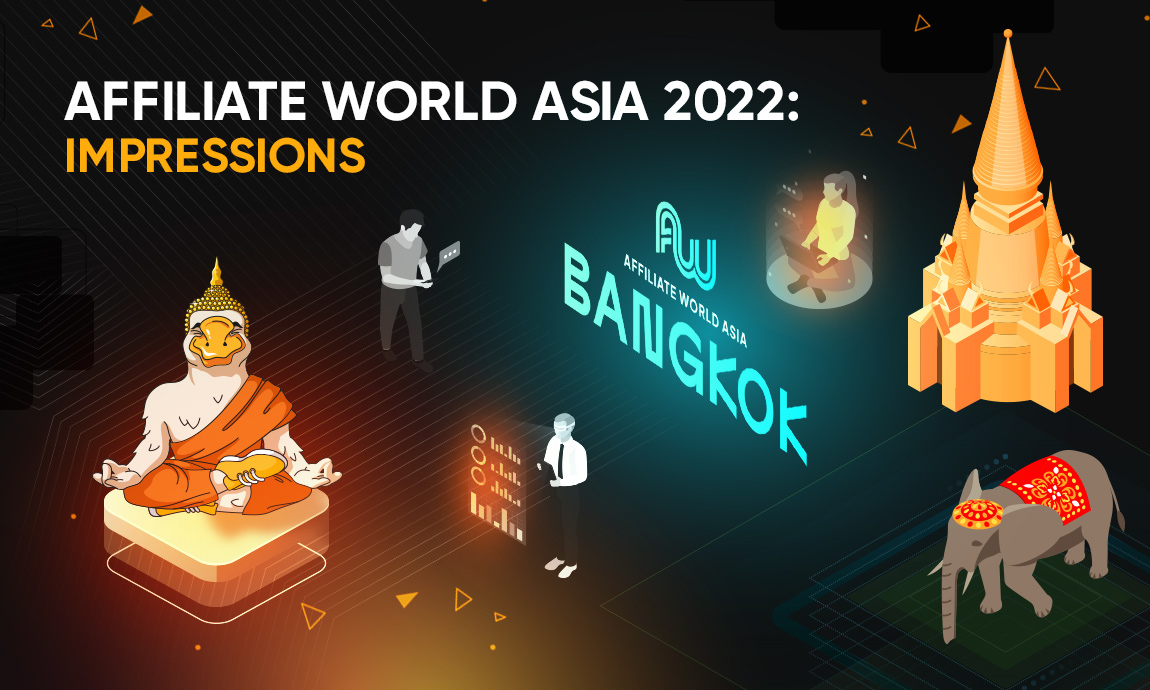 Golden Goose at Affiliate World Asia-2022: Report
At the end of the year, on November 30th-December 1st, Affiliate World Asia in Bangkok was finally back after a two-year absence due to COVID-19 restrictions – with a grand scale! More than 4k participants and around 200 stands were present at the conference.
As a participant of all Affiliate World events in 2022, the Golden Goose team can confidently claim that the conference in Bangkok outperformed similar events in Dubai and Barcelona in terms of at least the number of stands and participants.
Wanna know what the Goose thinks of AWA-2022? Keep reading then to immerse yourself in the atmosphere of the conference!
GG Rooftop pre-party
For the GG team, the comeback of Affiliate World Asia in Bangkok meant the revival of our traditional GOLDEN GOOSE ROOFTOP PARTY. As in 2018 and 2019, Golden Goose gathered friends, partners, and colleagues for an epic AWA pre-party, which took place on November 29th, with unforgettable night Bangkok views.
This year, we invited our mVAS advertisers for our Rooftop Party, who we work with in the Asian region, and plan to develop our partnership with the upcoming 2023. 
We're glad that despite the disappointing weather, our party went great, and we could chat face-to-face with all the guests.










Day 1: November 30th, 2022
Traditionally, the Affiliate World conference takes place in Centara Grand and Bangkok Convention Centre. This is probably the best conference hall among those where AW conferences take place.
Like previous years, Golden Goose welcomed AW Bangkok guests to our booth. As always, we can't go to a conference without our stylish merch, which is always popular among conference attendees.
The first day of the AWA conference started at 10 AM, and from the first minutes, we knew that the event was way bigger than previous conferences. We were thrilled to see so many guests at our booth! We did our best to dedicate time to each of them. 
What a pleasure to meet old friends and new business partners! Soon, these contacts will turn into long-term and productive partnerships.
Apart from stands and booths, there were several networking areas where people could play table tennis, drink some coffee, but, most importantly – talk to partners privately without fuss. Besides, a Recharge Zone was present this year, where it was possible to chill out, charge your laptop, and check your emails, which is super convenient. 
In general, the conference organization was on top. Still, of course, there was a fly in the ointment – very weak public wi-fi, which is "slightly inconvenient" for the digital marketing conference. We hope that event organizers will consider this con next time.
The first day of the conference ended at 5 PM, and the time really flew by! 
At the end of the day, we can say that Golden Goose's advertiser portfolio is going to grow very soon 😉





Day 2: December 1st, 2022
The second day of any conference is always meetings, meetings, and more meetings! 
Since the size of the AWA conference and the number of participants was massive, GG managers had tons of meetings planned. This year, our team was represented by seven managers, which let us take things fast at the booth and have a chat with a lot of attendees of the exhibition part.
As a result of our talks, many cross-promos with ad networks and affiliate tools await our partners! 
During the event's second day, we visited some sessions with AW conference speakers, separated into two parts: the Main Stage and a section called the Breakout Stage. Many respected experts shared new ideas and thoughts, meaning the market is developing and will not stop.
After the official conference and exhibition ended, we participated in an official after-party from the event organizers. We had a chance to talk to those attendees who we didn't find time for during the conference.





Golden Goose was excited to participate in Bangkok's Affiliate World Asia conference. It's incredible to end the year on such an optimistic note! See you next year in Bangkok!