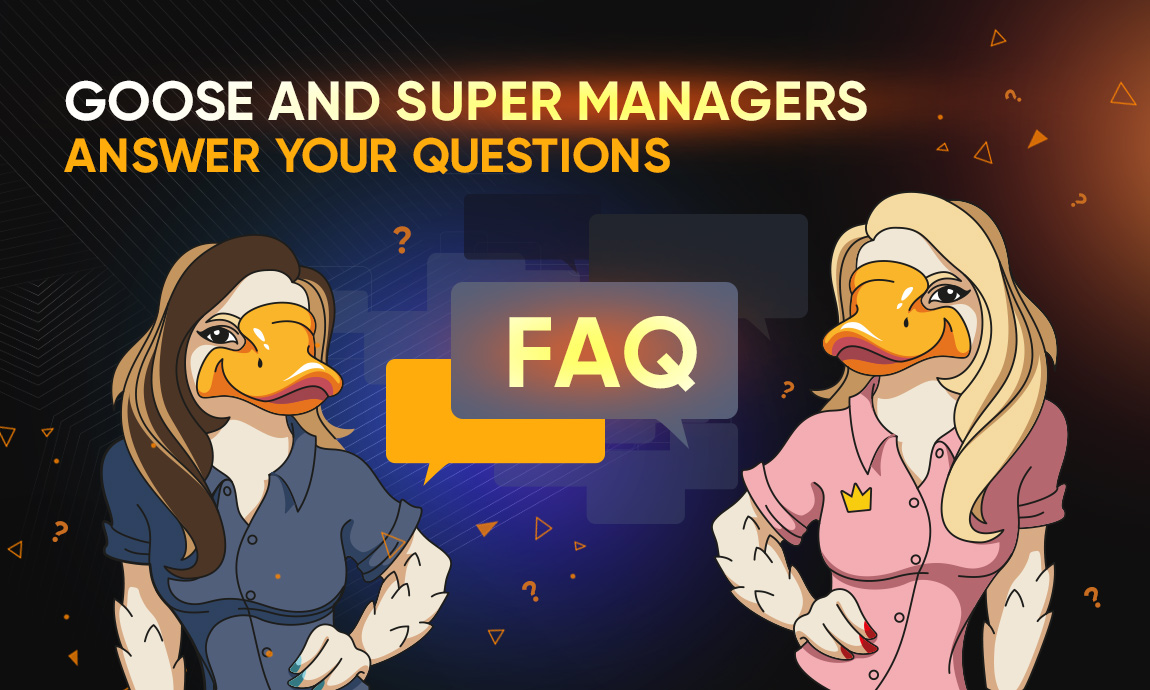 Frequently Asked Questions: All you need to know for your successful start in Golden Goose
Every day, the Golden Goose team receives tons of messages from our affiliates, most of which address questions that concern them the most. Those questions generally repeat each other, and not surprisingly: many of you are at the very beginning of your career in mVAS affiliate marketing, which has many nuances compared to different affiliate verticals.
We always say how we care about our partners; these are not just empty words. We do care about your successful work, as your accomplishments strengthen us.
That's why we've compiled a list of the most frequently asked questions our managers get daily. Now you have a place to go find an answer before you start to panic.
Ready? Let's go!
Offers
What does "cap" in the offer description mean?
Cap, shortened from "capacity", is the limit of daily subscription volume, or, to put it simply, the number of users who can subscribe to a service you promote within the 24-hour period starting from 00:00 (offer's time zone). Some offers have the cap, while others don't. Our platform specifies the percentage of cap remaining on a particular offer in its description, so we recommend checking this figure once in a while. If the offer reaches its daily cap limit, you will receive a notification in your dashboard.
What is the difference between billable and non-billable offers?
When you see the word "billable" in the offer description, this means that the subscription is activated, and conversion is accepted only when money is taken from a user's account. Regarding non-billable offers, funds' write-off is unnecessary for the subscription to be activated and conversion to be accepted.
The percentage of CR for non-billable offers is higher than for billable offers.
Campaigns
I've started a campaign, but there are no conversions. What's the matter?
A low conversion rate (CR) or the total absence of it might happen due to several reasons:
An unattractive offer: The audience might not be interested in the offer at all;
Dull creatives that don't catch the eye of users;
Mistargeting: A typical mistake of beginner affiliates is incorrectly adjusted targeting. There is a chance a webmaster isn't attentive enough and might forget to select the needed carriers, etc. You might also buy traffic that isn't relevant to the offer;
Absent or poorly conducted analytics on traffic sources;
Our managers are always here to help you, ready to analyze your click stats and find a solution to your problem.
Also, read our article on the most common mistakes leading to no conversions.
What to do if an advertiser service stops being available but I've already started my campaign?
We're sorry when such situations arise, but it's not our fault. We strive to swiftly notify our affiliates about problems on the advertiser side so you can stop your campaign. And if you don't switch off the SmartLink, your traffic will be automatically redirected to it, letting you avoid losses.
The main channels we use to inform our affiliates about such changes are notifications in your personal account, our official Telegram group, and our shiny new Telegram bot. Subscribe to our bot: it's the easiest and fastest way to be updated when the offer is switched off/on.
What should I choose: a custom ad campaign or using SmartLink?
Suppose you have an opportunity to separate GEOs, mobile carriers, and IPs. In that case, we recommend creating a custom campaign using the list of our top offers. This is the most efficient way to monetize your traffic, which is more suitable for professional affiliate marketers.On the other hand, if you don't want to spend a lot of time on targeting adjustments or you have mixed traffic, use SmartLink so that we can choose the right offers for you. Run a campaign in just a couple of minutes! SmartLink is perfect for beginners, especially if you want to have some tests.
Why do I need a TrafficBack link?
Imagine: you send traffic that doesn't match a carrier in a chosen campaign or an advertiser/operator doesn't accept your clicks (for example, a user's tariff plan prohibits subscriptions). We can return the clicks on your specified TrafficBack URL in those cases.
All my clicks are sent to TrafficBack. Why?
You can see why your clicks are sent to TrafficBack by clicking on the numbers shown in the column of the same name. There are several reasons, and we'll try to explain each:
Returned from advertiser: This means the advertiser returns clicks for some reason. For example, a subscription for a user is prohibited, or you send fraudulent traffic.
Campaign disabled: The campaign is blocked.
Mobile apps BL: An app where a user sees an ad and goes to a landing page (LP) is black-listed.
Devices BL: Traffic goes from black-listed devices.
Unknown operator: If you turn off SmartLink in your campaign and run incorrectly targeted traffic, your traffic will be sent to TrafficBack. For example, your selected operator is Vodacom, but the user is an MTN subscriber.
Empty referrer: It's prohibited to promote an offer without a link source. Our system sees such traffic as fraudulent and blocks it.
Referrers BL: The link source is black-listed.
Offer source BL: The parameters «source»-«site» are black-listed.
CapIsReached: The daily cap limit is reached, and the offer will be available again after midnight.
Offer off by schedule: The offer works only during the hours specified in the offer description.
At Golden Goose, TrafficBack is separated into general and campaign-related.
How to reduce TrafficBack?
Check the accuracy of campaign settings. Find out if the offer for a specific GEO is chosen for needed carriers.
See if your traffic sources aren't black-listed (this is indicated with the reason of TrafficBack in the dedicated column.)
Analyze your traffic and reduce the number of clicks from IP zones that are not accepted on your chosen offers.
What is a PostBack URL?
PostBack is a URL created by a conversion tracking platform that transfers conversion-related information. Each time a conversion occurs, the affiliate network passes essential data, such as its name and type, by calling thePostBack URL.In Golden Goose, PostBack can be either general or for a selected campaign.
How to get a test conversion for the PostBack checking?
To run a test, you need the following:
click_id of affiliate: A unique identifier of a click generated by an affiliate's system; it's developed for each click when it's sent to GG. It can be transmitted in P1 or P2 parameters.
Postback URL of affiliate: An URL which an affiliate's system is ready to take notifications for. It is shown in the GG campaign.
We're going to show you the testing process on the PropellerAds network example. Our media buyer answered this question, and we hope this step-by-step example will shed some light on the process.
1. Before running a test, you must ensure you've set all the needed parameters.
GG Dashboard – the PostBack link you send to PropellerAds

PropellerAds – The click_id you send to Golden Goose


Let's run some traffic!
2. In the GG dashboard, you need to open the stats for P1 parameters. In the example, we've specified in the offer link that the click_id needs to go to P1.

Now the click_id reaches the Goose. Success!
3. You need to take any click_id from the list and enter it in the link that sends PostBack.
Our media buyer took 645312875740795158 and set the 0 payout.
Example:

http://ad.propellerads.com/conversion.php?aid=3532556&pid=&tid=97745&visitor_id=645312875740795158&payout=0
4. You need to enter the PostBack link in your browser address bar and load the page.

5. Now, we go back to the PropellerAds dashboard and find one conversion.

So you see that now you have one conversion, and the PostBack link is working. Congratulations!
My ad network doesn't accept your link and says it contains viruses. What should I do?
If this happens, report the problem to your manager. It might be an issue on the advertiser's side, so we'll request to change the link.If it's the Golden Goose's Promo URL that is not accepted, we will change it automatically or with the help of a manager.
We recommend you park your own domain in our system. You can also try switching off SmartLink in the campaign and putting TrafficBack URL in your campaign settings to avoid such situations.
How to adjust the IP range?
As the last step in your campaign adjusting, we recommend you pick a list of IP zones for selected carriers to work with. This list helps you make your targeting efficient in ad networks by buying only needed traffic.If you need some help with the IP zones or face some mistakes in their work, please report the problem to us.
How to add S into HTTPS protocol in a parked domain?
You can park an HTTPS domain via Cloudflare on your own. If you do that with the help of another system, you can add a domain to your account and then send a request with your certificate and key files to our support.
Instruction on domain parking via Cloudflare:
Choose the "DNS only" settings.
Add your GG account.
Turn on "proxied" when the domain is added.
See how HTTPS works in five minutes.
What is the domain status?
Promo domains and TrafficBack URL domains of affiliates are being repeatedly checked for infection with the service virustotal.com.
Domain statuses:
✔ — clean domain
⊘ — infected domain, blacklisted
? — unchecked domain
Private — your personal domain
Payments
Where is my payment? / Why haven't I received my payment yet?
Golden Goose pays daily, so you can be sure of your payouts. If you want to receive your payment on the same day, please leave your request to withdraw money in the morning according to the payment schedule:Monday-Sunday until 12 PM (GMT+3)
If the schedule is varied due to holidays, we will notify you about those changes via email and our official Telegram group.
After the request, it may take some time for payment calculation. Please be patient: your payout will definitely arrive within a day.
What is the difference between Revenue Share and CPA payment models?
Revenue Share : We pay an affiliate for each fact of debiting funds from the subscriber's account. In simple words, you get paid when a user subscribes to a service and their subscription is renewed, which happens daily.
CPA: This is a payment for one-time action – a subscription activation by a user.
The CPA payment is generally several times higher than the Revenue Share payment, as the former is paid only once. However, despite that, you can usually earn more with the RevShare model since an advertiser calculates their risks to decide on an amount of a one-time CPA payment.
What is the minimum sum to withdraw from Golden Goose?
The answer depends on the withdrawal method you use.
WMZ: 0% commission, $20 min payout.
Paxum USD: 0% commission, $100 min payout.
Skrill USD: -4% commission, $20 min payout, $200 max payout.
Credit cards USD: -6% commission, $50 min payout, weekdays only.
Capitalist EUR : 0% commission, $20 min payout.
Capitalist USD: 0% commission, $5 min payout.
Capitalist RUB: -4% commission, ₽500 min payout.
Paypal USD: -3% commission.
Payoneer USD: -3% commission, $55 min payout.
Payoneer EUR: -3% commission, €55 min payout.
Tether USD: -2 USDT from USD to USDT, the sum is calculated based on the current exchange rate, $20 min payout.
Perfect money: -0,5% commission, $50 min payout, $100$ max payout.
WIRE Transfer: 0% commission, $500 min payout.
Support
Why doesn't my manager respond? / Where is my manager?
During peak hours, the time it usually takes for a manager to answer might increase. However, we always strive to respond no later than 24 hours after receiving a message. For your convenience, we always link several communication channels you can pick to contact your personal manager. Note that whichever channel you use, you can be sure your message won't be lost, and you will definitely receive your response.
When will you activate my account?
Account activation after registration and filling out the survey on our platform generally takes one to five hours during weekdays. If our managers are busy, the time for activation might take slightly longer. If it's been several hours since you sent us your data, please contact us via email: mail@gg.agency.