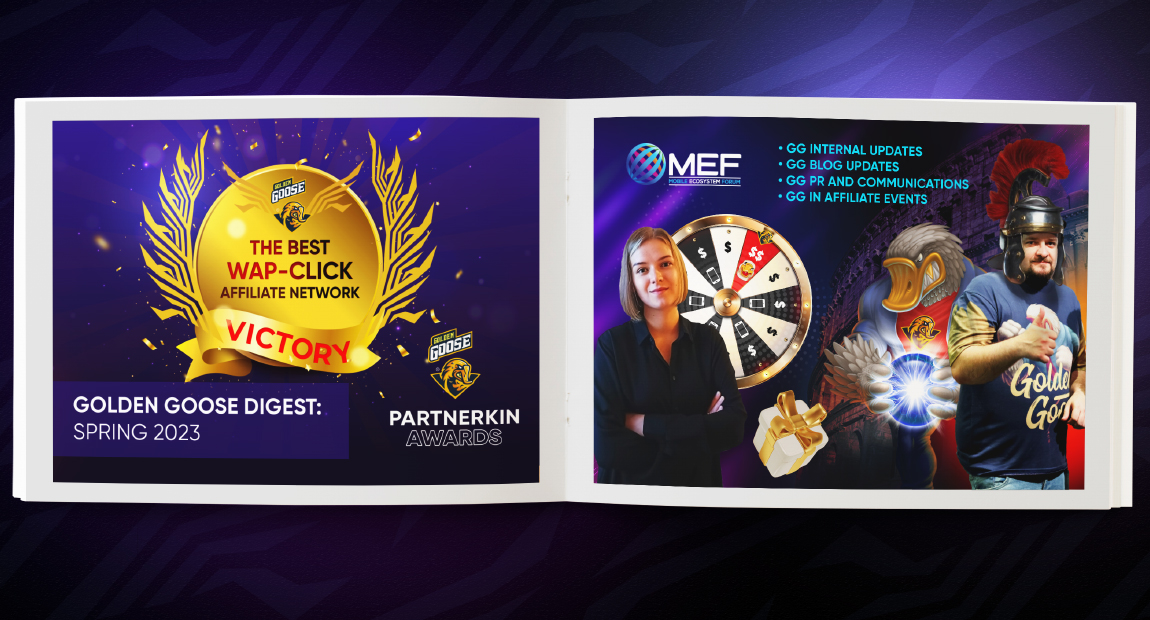 Golden Goose Digest: Spring 2023
Hey, our beloved affiliate community!
Today, we are thrilled to bring you another quarterly round-up filled with all the exciting news and updates from our network.
This spring was full of innovation, exploration, and growth.
We added new GEOs to our catalog, published insightful blog posts to empower your affiliate marketing endeavors, and attended a significant conference to connect and learn from the best in the business – and so much more.
Are you ready to dive deep into the life of Golden Goose? Let's go then!
GG internal updates
Spring 2023 has become proof of how high the Asian market's potential is. For instance, once we added a top Pakistan advertiser, we could 12X increase this GEO's monthly revenue – from $5K to $60K! We also got an exclusive offer for promotion.
Bangladesh and Indonesia became GEOs with the most added offers this spring. This means anyone can find a suitable offer converting best with your type of traffic. The list of top-converting offers (from 100 conversions per day) from several advertisers contains more than 30 offers. In our blog, you can find a detailed case study on how to run Indonesia with traffic from PropellerAds.
New GEO – Laos – was a success from the very first clicks.
This spring, we paid close attention to attracting new affiliates from MENA countries such as Egypt and Morocco: our Telegram group, MENA, saw 600 new subscribers.
Regarding revenue, Egypt, Iraq, Saudi Arabia, and Jordan have shown the best results. 
Pay attention: as the mVAS market constantly changes, we recommend keeping in touch with your personal manager – they are happy to share relevant new offers.
For example, Sudan was one of the winter's most converting and profitable GEOs. This spring, the situation changed, and Senegal was a record-holder in generated revenue. Nigeria and Kenya are all-season GEOs, but pay attention to the new awesome landings we add to our catalog as they might really help you.
New and top GEOs
This spring, our catalog was updated with four new regions:
Laos
Zimbabwe
Ireland
Honduras
Our top GEOs for this spring were:
Pakistan
Indonesia
Bangladesh
Senegal
Nigeria
Kenia
Egypt
Iraq
Saudi Arabia
Jordan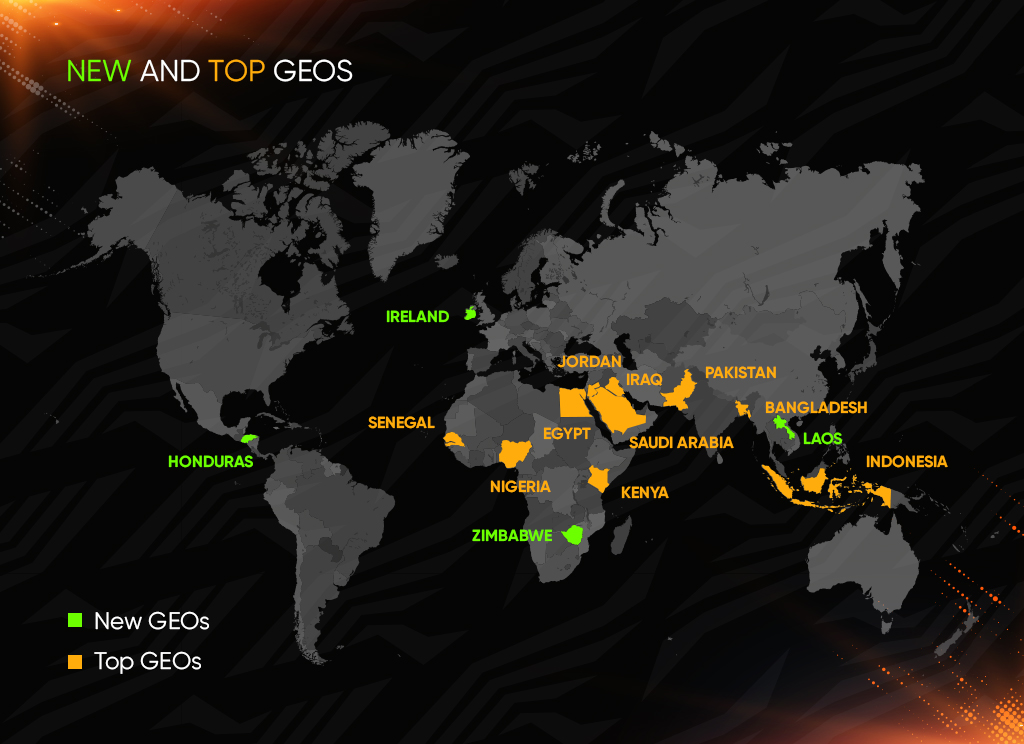 GG Team
The Golden Goose team is ever-evolving! We hire new and new employees to strengthen our team and make it even more productive.
A new Chief Marketing Officer, Anton Solovyev, joined our marketing team to strengthen our marketing efforts.
Our Product team saw three new team players: a new product manager and two project managers. We really needed this as we're preparing an epic platform update. You can already see the beginning of the changes: we updated the registration form and slightly changed the dashboard's search interface.
Our advertiser accounting team found a new team lead, Arman Babaian. We wish you luck with attracting new top advertisers to work with us!
GG in affiliate events 
At the beginning of March, the Golden Goose team visited Affiliate World Dubai, one of the world's most essential affiliate marketing conferences.
As usual, our merch made a splash at the conference!
In case you missed it, read a report on the event in our blog.
GG Blog Updates
This spring, we published two reports and a new case study. The most critical blog update was an interview with our Product Director, Andrey Ulshin, who explains all the radical changes awaiting our platform. Spoiler alert: we'll become a marketplace instead of a traditional CPA network, meaning GG will be more efficient and convenient for its affiliates and advertisers.
GG PR and communications
Golden Goose won the «Best Wap-Click Network» award from Partnerkin. We want to thank every affiliate who voted for us – without your help, we wouldn't be here.
An afterthought 
This is a wrap-up for this iteration of our seasonal digest.
We would like to thank every member of our Golden Goose community. Your commitment and passion are the fuel that drives our team. Because of you, we always strive to be the best on the market!
Looking ahead, we promise to continue pushing the boundaries, exploring new GEOs, sharing knowledge through our blog posts, and engaging with industry leaders at world-class conferences. Together, we will shape the future of mVAS affiliate marketing.