Today, let's play a little reverie game dreaming of Indonesia to test the Mainstream Download offer .
Take a look at the offer's landing page:
If you're a newbie and don't have any idea what the flow is, check out our detailed article on how users get subscribed to mVAS services.
Key stats on the offer run
| | |
| --- | --- |
| Affiliate network: Golden Goose | Period: 14 days |
| GEO: Indonesia | Revenue: $739.2 |
| Vertical: Mainstream | Expenses: $560.76 |
| Category: Download | Profit: $178.440 |
| Traffic source: PropellerAds  | ROI: 31.82% |
| Advertising format: Direct Click | CPA: $0.28 |
| Flow: PIN submit | CR: 4.31 |
To be honest, this campaign was pretty challenging. The test required a pre-landing page and continuous optimization, but ultimately, we got a whopping $793.2 in revenue! 
However, everything comes with a price, and expenses of $560.76 were inevitable.
Although the payout was only $0.28 per conversion, our media buyer Dima Zitelnikov managed to get almost $180 in pure profit with an impressive ROI of 31.82%.
Well, it's all interesting and stuff, but what about the exact process? We won't make you wait any longer and will explain it in the upcoming sections.
First steps to launch the campaign
Here comes the most intriguing part of our case: juicy details and an overview of the process!
Our ad network of choice was PropellerAds. We often test our offers using PropellerAds as a traffic source since this ad network is 100% in demand among our affiliates.
Dima Zitelnikov decided to use the Direct Click ad format as it's straightforward and efficient.
Back to our case, the payment model was CPA Goal with $0.14 per lead (half of our initial payout).
As for targeting, we set the broadest option possible to run as much traffic as possible and analyze what we would get from it.
Dima created a pre-landing page with the help of Photoshop to warm up the audience. That's because the Indonesian mobile traffic market is highly competitive.
We decided to test the offer both with this pre-landing page and without it to split-test the results.
Here's our creative: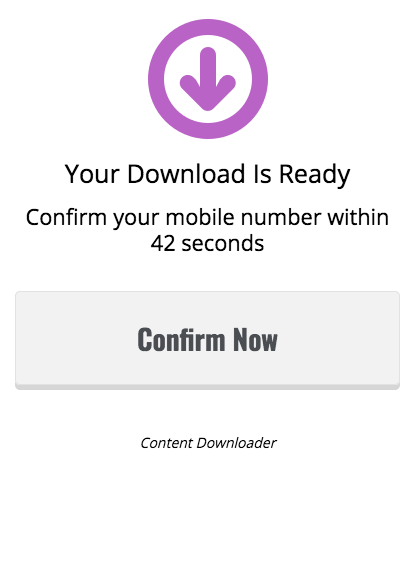 Campaign adjustment and optimization
After we chose the ad format and set targeting, we launched the campaign and started collecting initial statistics. 
The first results didn't keep us waiting. We had the needed stats and, most importantly, conversions. However, the -90% ROI was the opposite of satisfying – the expenses for displaying our ad massively exceeded the earnings from received conversions.
We didn't give up, though: Dima made a well-known affiliate trick collecting every targeting that brought in conversions and re-launched the campaign with new adjusted settings.
Take a look at this screenshot showing every converting targeting.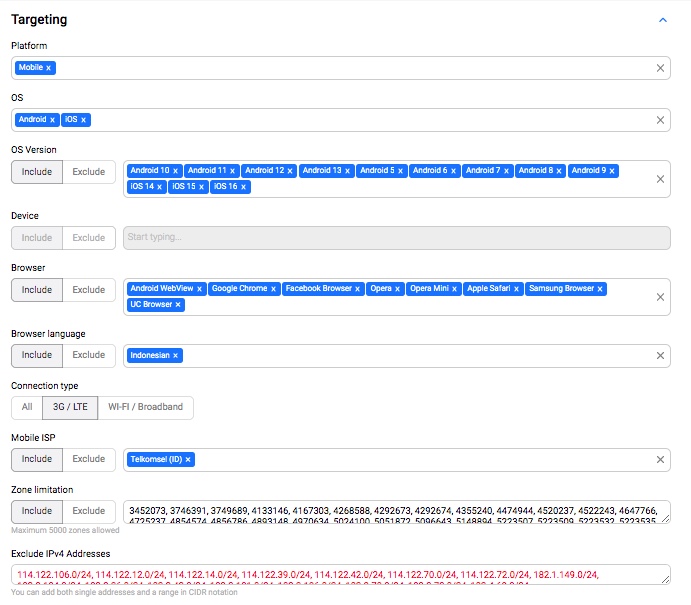 For sure, we kept on running the offer with and without the warm-up pre-landing. Both versions showed decent results.
After combining all the targeting options that were converting enough, we re-launched with new settings. Besides, we increased the CPA Goal up to $0.22 to get more traffic of better quality. This optimization instantly brought the expected results – we boosted the campaign, so our profits grew as hell.
So afterward, our primary purpose was to leave the settings alone and just watch the revenue grow.
These are some stats from PropellerAds:

And here are the Golden Goose stats:
According to the statistics above, we earned almost $180 in 14 days of running this campaign. As we're writing this case study, our creative angle keeps working and bringing in high-quality conversions.
Conclusion
This experience with such a tricky Indonesia offer has proved that this split-testing thing works!
Adjusting different targeting options and the cost per conversion can significantly increase the efficiency of your ad campaign. So be ready to optimize and experiment with your angles to get out-of-this-world results!
We wish you the best of luck running mVAS offers.
A newbie? Register on the Golden Goose platform to try your hand at a new profitable vertical and maximize your profits!