About Event
The conference took place in downtown Dubai, at Dubai World Trade Center.
The space was smaller than we expected. Sure, the Trade Center is massive on its own, but it has separate halls, and the conference took just one of them.
Despite that, the conference brought together
5000+ attendees from 110+ countries;
35+ speakers for panel discussions;
170+ affiliate networks;
40+ traffic sources;
120+ advertisers.


The stats are impressive, but in our humble opinion, the last Affiliate World conference in Bangkok, held from November 30th to December 1st, 2022, was more extensive regarding the place and the number of participants.
This might be for a couple of reasons. We have two theories: folks didn't want to visit the event after just three months from Affiliate World Asia or waited for another epic Affiliate World conference this July.
During the pandemic, Affiliate World Dubai was a huge success as two other conferences were canceled. But right now, as we believe, the event can't stand the big competition among the three conferences.
Golden Goose Facts
High CR and revenue potential
Real-time tracking
Secure payment options and timely payouts
The rarest GEOs: Isle of Man, Comoros, Grenada, Kiribati
However, the event's organization was tip-top, and the conference hall was very convenient. There was enough space for talking and networking: a beach bar, an Arab-style lounge, a room for speakers, a dedicated networking zone, a variety of photo zones, and a mobile bar with coffee and drinks.
This time, the wi-fi was strong enough to serve everyone visiting the conference, unlike in other AW conferences.







The advertiser networking
The main reason folks are visiting the conference is networking. We are no exception. As Affiliate World Dubai concentrates on MENA countries' advertisers, we primarily aimed to talk to them directly.  
As we're actively developing our MENA business, we discussed the opportunities for our beloved affiliates we can bring from the conference, like partnerships with advertisers, increased rates, and new exciting offers.
We were thrilled to meet our partners in person! During the conference, we even had a chance to go to some advertisers' Dubai offices.
Apart from the direct contacts of advertisers, we needed to find business contacts from the financial sector, as it's crucial for our payment system.
We take pride in Golden Goose being the only mVAS affiliate network represented with a booth.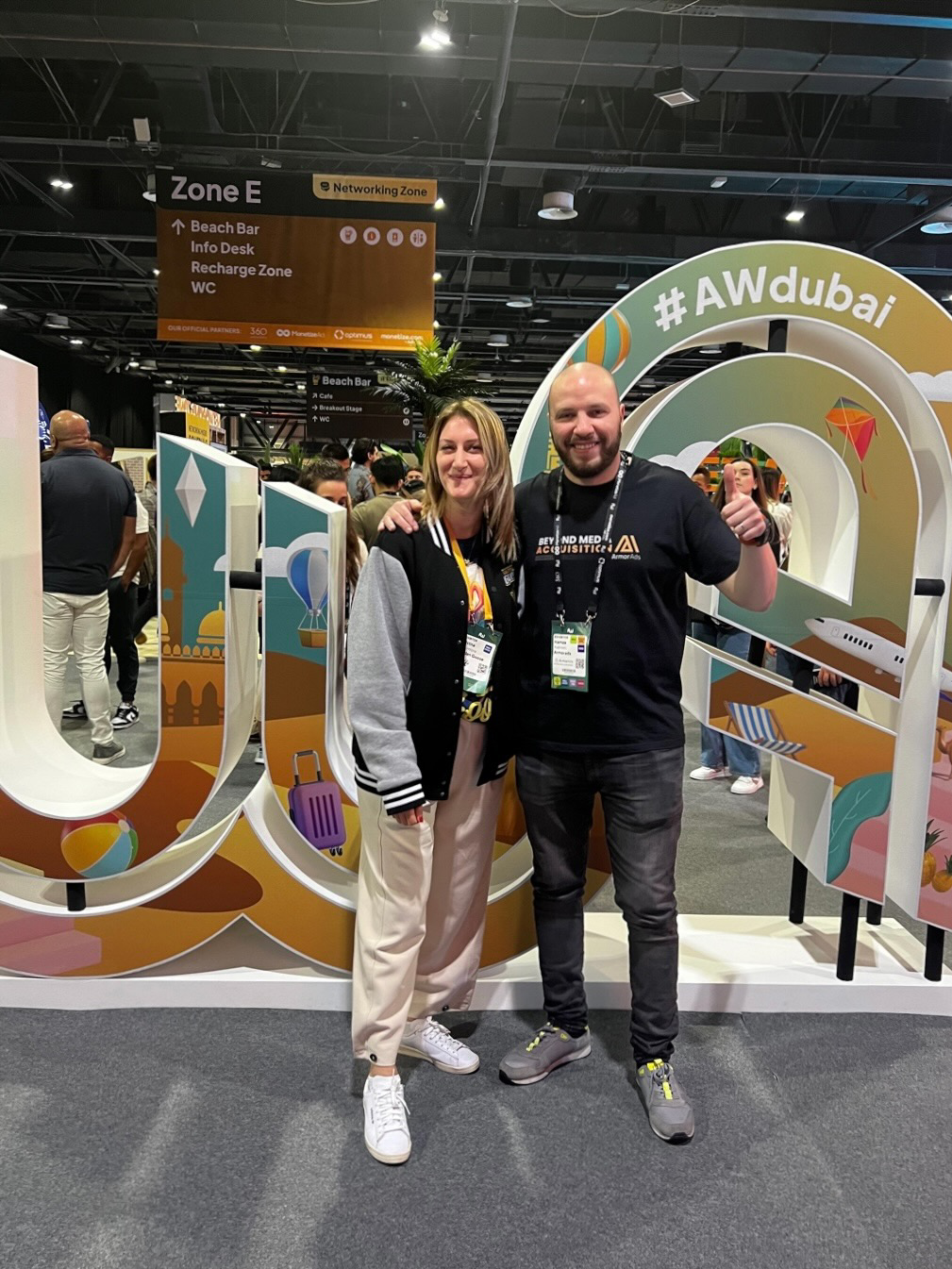 The affiliate networking
The conference opened its doors to visitors at 9AM, and since then, we were actively preparing to meet our booth's visitors.
We were super excited that our booth had a very convenient, even lucky, location just in front of the entrance, where our mascot, Goose, was facing everyone entering.
As we saw the immense interest in our offers and faced the requests to see how to launch an offer right here and now, we came up with the idea for the following conferences: bring in an interactive tablet so that everyone can go deep with the offer workflow, their descriptions and payouts.
The first day of the conference was the busiest, as meeting face-to-face with our current affiliate partners and new ones was critical. Folks working with other affiliate verticals came to our booth with interest, especially from the Gambling vertical.
People are always searching for new opportunities to grow and scale their affiliate marketing business; this is where Goose enters the scene.
One affiliate who works with Gambling confessed to us that they hate the problems with the payouts, while Golden Goose offers daily payments with dozens of payment methods. 
We made sure that affiliates would try mVAS affiliate marketing to see how profitable this vertical is compared to other ones.
Among influencers in affiliate marketing, we met our friend KJ Rocker.
Golden Goose's outstanding merch
Every conference, the Golden Goose team receives tons of compliments on our bright, eye-catching branded merchandise.
This time, our merch made an even bigger splash with our updated T-shirts with Russian dolls in the form of the zombie Goose.
In general, we always try to bring hundreds of gift sets with us to any conference, and this time, we gave away everything in the first half of the first day!
The super cool guys with our branded bags were spotted everywhere. Our merch is worthy even for sheikhs!




An afterthought
This conference was a sober event due to the laws of UAE, but everyone enjoyed their time.
It was a pleasure meeting every market participant and discussing the affiliate marketing future with them, learning new market tendencies, setting new goals for ourselves to bring our partners expertise and top market offers.
See you next year, Affiliate World Dubai!