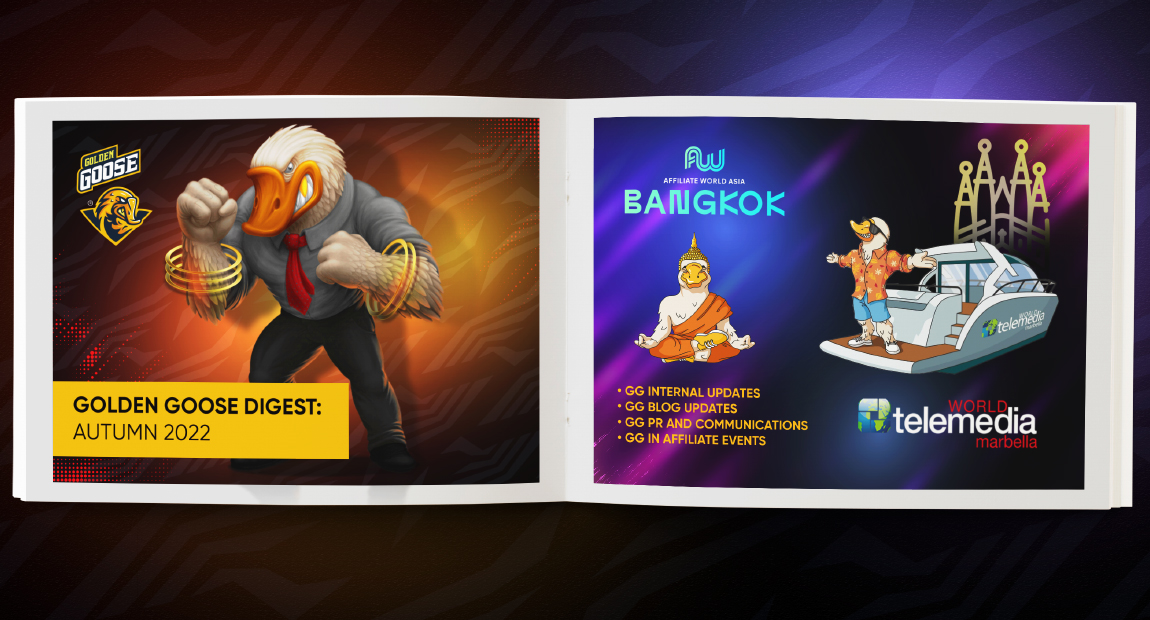 Golden Goose Digest: Autumn 2022
Are you interested to know what's new with Golden Goose? 
Today, we post the second iteration of our quarterly Digest, which spans three Autumn months.
Jump in to learn about our partner base growth, promos, event participation, and so much more!
GG internal updates
Autumn 2022 set a record for the registration number on the Golden Goose platform. The growth of new partners amounted to +60% compared to the summer months.
This is not the limit: we're preparing new promos and bonuses for our new and old partners since we want their registration on the Golden Goose platform to eventually transform into an efficient, profitable campaign.
Golden Goose expanded its account management team, so we now have more English-speaking and Spanish-speaking managers. We closely monitor the registration flow and provide timely service to our partners. 
By the way, we're looking for an account manager for the Asia region with good knowledge of mVAS affiliate marketing. Is that you? Please let us know via email!
Top GEOs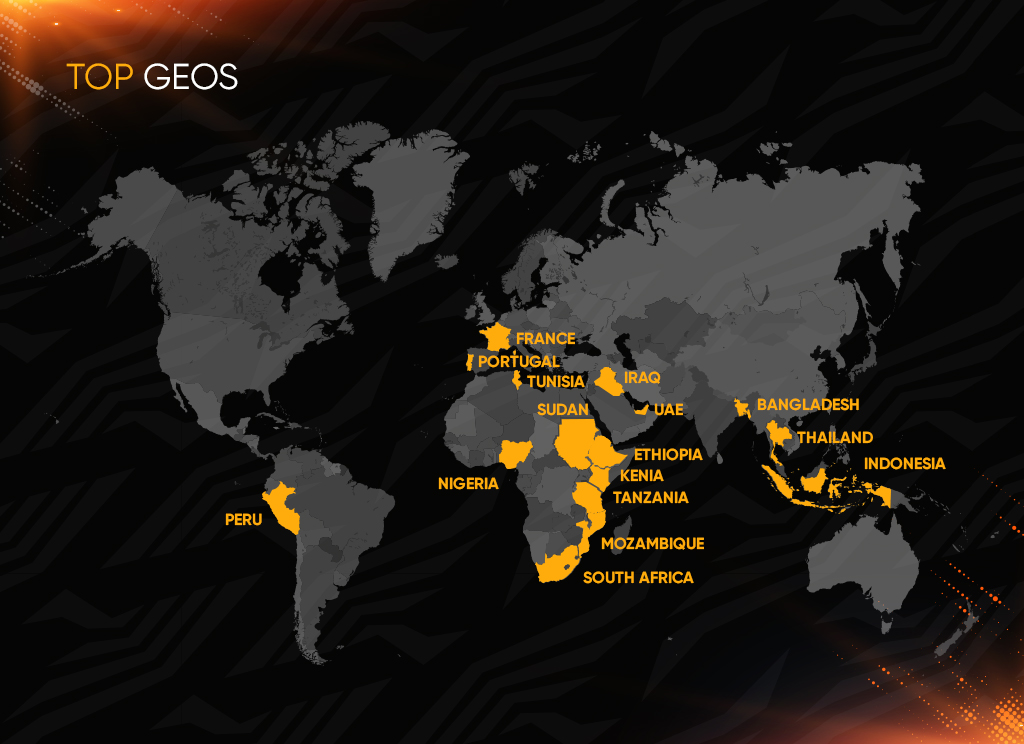 Top GEOs for this Autumn that was formed by our partners:
South Africa is an apparent leader in terms of the number of advertisers on the market. Private and in-house offers for our partners are undoubtedly our advantage in the region.
Indonesia: Find the best HE+PIN flow offers in our catalog (they are bespoken favorites).
Bangladesh: If you know how to work with this region, we have the highest rate in the market on the offer id7949.
Sudan +  Nigeria + Ethiopia + Kenya + Tanzania + Mozambique + Tunisia: Our affiliates ran traffic on these African GEOs most often.
The United Arab Emirates, a sensitive GEO with an exclusive Sweepstakes football offer id9205 + pre-landing page id1598, was the brightest hit this Autumn! It showed x3 growth for traffic launch.
Iraq was part of the Cyber Monday promo from 28th to 30th of November, when the advertiser increased the rate on a click offer id9322 ($0.5).
Peru: Accessible click flow on Adult landing pages accounted for the principal revenue stream on this GEO (Push traffic is on top).
Thailand: Click flow offers of DTAC carrier are leaders in the market, including Adult offers + the AIS carrier's HE+PIN flow offers.
Portugal: Sweepstakes are still on top, and there's no limit for traffic sources (we actually have a relevant case study).
France: FB and InApp sent by our affiliates on Antivirus and Content Lock offers let France get into the top 10 GEOs.
And some other traffic volume leaders among GEOs:
Saudi Arabia 
Chile
Poland
Austria 
Turkey
Spain
Oman
Russia+CIS
Our brand-new office
Big news: Golden Goose moved to a shiny new office! It has everything anyone might think of: a cozy kitchen, a lounge area with poufs and table hockey, and spacious working zones with potential for team growth.
Check out this video and see how beautiful, futuristic, and comfortable our new office is!
GG Birthday celebration
This October, Golden Goose turned six! Our birthday is an extraordinary event for all geese of this company 😉
To celebrate this date, the GG team took a trip to Georgia – a beautiful and welcoming country. For four full days, GG employees from all over the world were drinking wine, tasting delicious local food, and traveling across the country to see the most breathtaking views!











Wanna check out more photos and read our trip report? Visit our blog post on our Georgia birthday celebration!
GG Blog Updates
This Autumn, we've published two crucial case studies, three interviews with the most prominent representatives of the affiliate marketing industry, and two awesome reports: from our birthday team-building celebration and World Telemedia conference in Marbella. We'll talk about the latter in the "GG in affiliate events" section, but for now, catch up with Autumn's blog posts:
GG in affiliate events 
In October, Golden Goose was part of World Telemedia-2022 in Marbella. This conference, which lasted from October 19th to October 21st, brought us many new acquaintances, friends, and partners.
For Golden Goose, the event's highlight was our own party for mVAS advertisers on the second day of the conference.
GG is known for throwing fabulous parties, but our Beach Party in Marbella was the first one we organized during World Telemedia. 
We were able to bring together many bright and talented people we expect to see at the same party next year, which will become an annual event.










At the end of November, the GG team traveled to Bangkok, Thailand, to participate in the Affiliate World Asia-2022.
While the two-day event took place from November 30th to December 1st, we organized a special pre-party for all our friends among mVAS advertisers.
This party was a super fun and valuable event, letting us meet many outstanding people from all corners of the world.
GG Bangkok Rooftop Party is an annual event: we had it in 2018 and 2019. Due to coronavirus restrictions, we didn't organize it in 2020 and 2021. Next year, we expect our friends and partners to participate in the same event 😉










GG PR and communications
This Autumn was full of events that shaped the professional look of Golden Goose.
Webinar 
First of all, there's something we're really proud of: on October 5th, we organized our first solo affiliate marketing webinar on how to start earning in mVAS.
This was a huge event for each GG team member who created texts and designed and promoted the webinar on social media and email newsletters. Special thanks to Elena Rodionova, our brilliant presenter.
Check out the recording in case you missed this epic webinar.
Autumn promos
What about promos organized by Golden Goose? 
One of the brightest promos of this Autumn was Football Fever, which lasted a whole month, from November 18th to December 18th. We granted our affiliates +5% to payout on football-themed offers.
From November 25th to December 4th, we had the LATAM Black Friday promo: +15% to payouts on top converting offers of the LATAM region.
And, of course, Black Fridays and Cyber Mondays always go hand in hand. For our Cyber Monday promo, which lasted from November 28th to November 30th, we prepared an exclusively high rate on a Football Sweepstake Iran offer id9322 with 1 click flow.
We've had some milestone collaboration events this Autumn with the EZmob advertising network. They published a case study featuring GG while we interviewed EZmob's head of advertising. Check out the interview here!
To sum it up
Thank you for being part of the vast Golden Goose family! We pride ourselves on always being there for our affiliates and partners.
Smell you next time!