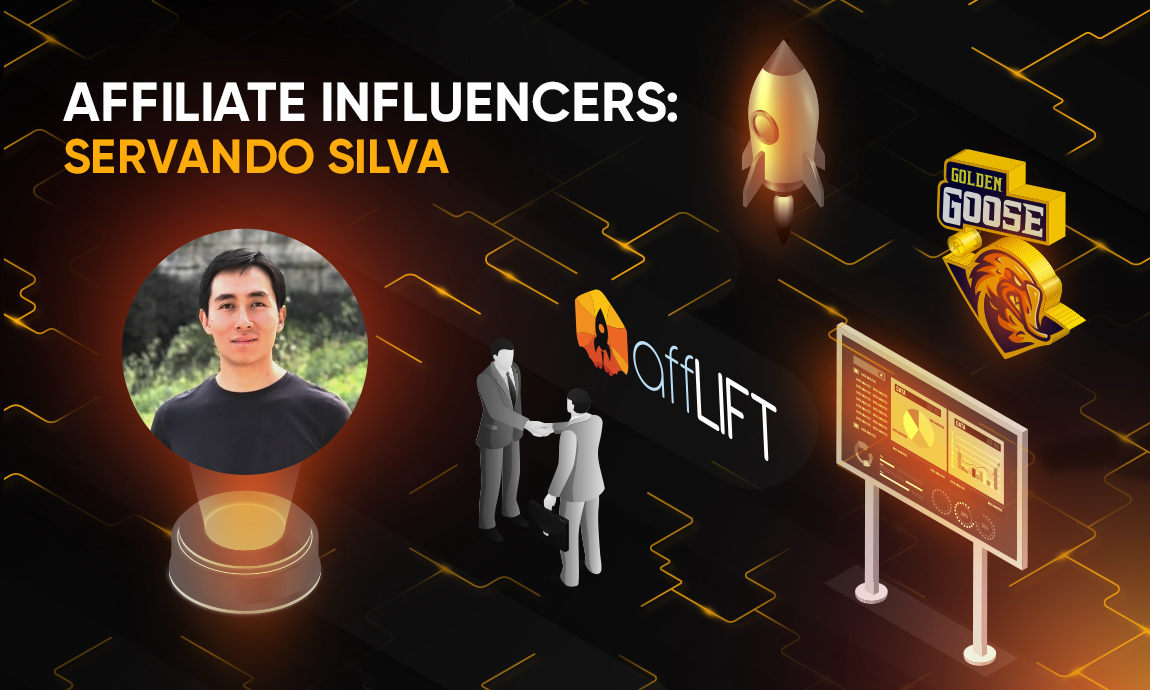 Affiliate Influencers: Meet Servando Silva
This is the second episode in our series of interviews with affiliate marketing influencers. We ask the industry's most renowned and relevant names the questions any affiliate marketer is interested in: which ad formats and traffic sources to pay attention to, what verticals might boom in the nearest future, why it's lucrative to work with mVAS offers and many other intriguing aspects of affiliate marketing.
Our today's guest is Servando Silva. Servando is the author of our brilliant free course on CPA/affiliate marketing in mVAS for beginners and a community leader on the AffLIFT forum.
—You've been doing affiliate marketing for more than ten years now, so what was it like when you just started? What ad formats and traffic sources were the most popular back then?
Well, the timing is great because this year, it's been exactly 10 years since I started with affiliate marketing at the beginning of 2012.
Things were a bit different. Back then, I only focused on promoting info products from other creators, and Amazon was the rage as well (still is for some people). However, I used organic traffic sources such as social media and search back then.
When I started with paid traffic, PPV was very popular via adware and toolbars. But as we all know, mobile traffic started being the trend back then, and many new ad formats came with it. While mobile traffic nowadays represents more than 60% of global traffic, I think it was 20% or less back in those days.
A few ad formats that were very popular on mobile were interstitials, push notifications (AirPush), the traditional 320×50 banner, and pop-unders and redirects.
—Why did you decide to start with affiliate marketing at all?
I graduated in 2010 and got my first job as a computer engineer in 2011. It was my first job, and the salary was good, especially for Mexican standards (around $1,600 per month), but after rent, food, and other expenses, I struggled to save money.
I had already been blogging (paid per article) since 2006, and I decided I could perhaps make an extra $200-300 per month by starting my blog. Eventually, I left my job and focused on affiliate marketing and display ads to make my full-time income online.
—You're used to working with pops, Facebook traffic, and SEO as traffic sources in affiliate marketing the most. Why do you find these formats the most attractive for yourself? 
Pops are still attractive for one single reason. They're easy to get started with. As a new affiliate, pops are always recommended because you don't need to create banners, and they're the least restricted ad format of them all. Also, traffic is cheap, and the offers you promote on pops usually (not always) have low payouts. Therefore, you can track and grab a ton of data, only spending a few dozen bucks daily.
For the same reason, pop traffic has the lowest quality of them all, but as a playground, they work great, and you can still make money from them.
On the other hand, Facebook and Google are my favorite sources because the quality is way higher, and the platforms have huge scalability. Simple as that.
—How did you end up joining AffLIFT and becoming its community leader? What are your plans for its development?
Good question. Forums have always been my bread and butter for learning stuff online. Luke created Afflift and told me about it back in 2018. I signed up and immediately found a good source of follow-alongs and case studies.
I think I posted content here and there for a while, and in 2019 I was offered the "community leader" position, to which I agreed. I think I was the first one, but I'm not sure. Realistically, I just try to engage with the community and post valuable content whenever possible.
A forum is driven by its users and content. The more good content there is, the more it will grow organically. So that's the plan for now. Luke probably has a better plan than mine, as he's the owner and does much more than just engage in the forum.
—Another question about AffLIFT: is it more of a hobby or a direct source of income for you? If the latter, are you satisfied with your average salary range?
It's a mix between a hobby and a place where I learn and can hang out with other like-minded individuals to network. That's difficult to value. 
I can't consider it an important direct source of income as my other businesses pay me more (directly), but it's a nice cherry on top 😉
—What is your main fuck-up as an affiliate marketer? For example, was there a situation when you lost a HUGE sum of money, or all your money, but then rose like a phoenix from ashes? 
I'm an avid fan of risk management, and I don't remember making any big fuck ups, such as losing all of my money. A couple of times, I have spent a few hundred or thousands of dollars on an offer where the link was broken or where I messed up with the bids or daily budget. While losing money like that hurts, it doesn't represent much if you see the big picture.
I once bought cryptos close to the top and sold them close to the bottom like a real professional. It was a sum of 6 figures, so that can be considered a dumb thing. Don't copy my strategy, LOL.
—You've been in the industry for so long. Can you tell us your thoughts on its future? In your opinion, which verticals will boom in the near future, and which ones will die soon? 
It's hard to say. Sometimes things we don't imagine pop up and create new trends. I think the more time passes, the more affiliate marketing evolves. We slowly see a switch to lead generation for white hat businesses, eCommerce, CPS offers, and regular stuff that everybody understands.
I think that's the kind of affiliate marketing that will prevail after a few decades. But who knows?
—Does your home country Mexico have a lot of affiliate marketers? Which country has the highest number of affiliate marketers and why?
Definitely not. I think you can put all of the full-time affiliates or publishers from Mexico in an event for 100-200 people. While Mexico has been a place to retire for expats lately, it's not famous for being a tech hub or anything that could draw the attention of other entrepreneurs, except for the cost of living and how easy it is to get in and out (no Visa), etc.
—You mentioned that there aren't that many affiliate marketers in Mexico. How would you evaluate the LATAM affiliate market overall? Are there many affiliates in other Latin American countries such as Peru or Argentina? 
The LATAM market overall is big, but affiliates are scattered everywhere. There are big communities in Argentina and Brazil, and then smaller communities in the rest of the countries. I think if we gather all LATAM we could make a group as big as Spain, but who knows really 😊
—Which GEOs are the most interesting right now for affiliates?
Hmmm. I'm sure the USA and multiple European countries are on that list, but it depends on the vertical. Some big GEOs such as India, Brasil, or Russia have many hot offers from time to time and a hungry market to fulfill them.
—What do you feel about fraud and misleading information in the affiliate field?
Honestly, it's still a shady industry in many aspects, which makes it unique or interesting for some people. I don't love it, but I also don't try to fight it much. I think affiliate marketing generally shows the best and worst of a capitalist world.
Where there's demand, there's an offer, and everybody is welcome to play and leverage its advantages.
And as things happen, people raise their voices, and some things get fixed or evolve. Simply as that. 
—What are your thoughts on the mVAS as an affiliate vertical? Is it profitable for affiliates? What are the most interesting affiliate verticals in general?
Can mVAS be profitable for affiliates? For sure. I think mVAS is great for people who want to start learning as you can find many hot offers in Tier 3 countries where restrictions are relaxed. It mixes well with pop and push traffic and is easy to understand. Creating a funnel for mVAS is simple, and sometimes you can even run them directly.
As for the most interesting affiliate verticals, I think those are the evergreen ones that make huge volumes, and people never stop buying from them. A few examples would be Nutra, Adult/Dating, MMO, finance, etc.
—What is your advice for someone who's just starting in the affiliate industry? Which formats to try, what to read and watch, what influencers to pay attention to?
I don't want to sound like a broken record, but "stick to a traffic source and vertical" is one of the best things you can do long-term. By traffic source, I don't mean just one company, but sticking to one ad format is the only way you will learn and dominate it in the long run.
If you're buying traffic, stick to low payout offers and learn the basics. Don't just read without taking action. 20% of the things you learn won't make sense until you live them.
If you want to learn more, go to afflift.com and STM. Both are great communities.
—Golden Goose and you created an affiliate marketing/CPA marketing course together — how was that? Was the process of writing hard? Was it challenging for you to write something for beginners, being an experienced affiliate marketer?
Yeah. The process was straightforward. Honestly, I have had courses in the past, and I always had blogs where I teach what I do whenever I have free time. Creating that guide was more of that, but on steroids, I had to go into small details and basic things that sometimes I avoid because I'm lazy. Overall I think it took me a month to write it and maybe an extra week or two to review it.
But overall, I'm used to writing, and while the course had over 100 pages of content (according to Google Docs) and could be a full book, I'm sure I have written way more than that every year between my blogs and other stuff. In fact, I'm always proud of myself when I check my Grammarly reports for the month.
I'd love to hear what people think about the guide now that it's live.
—We have a lot of good feedback from our affiliates on the affiliate marketing course you wrote for us. In your opinion, how useful is it for a beginner affiliate? Is it possible to understand mVAS with the help of the course? If you wrote the course right now, what would you change?
The first question seems a bit odd. How useful is it? I think it has everything you need to get started, and mVAS are explained there.
But I wouldn't change anything as mVAS and conversion flows haven't changed in a year. Also, the course was released earlier this year so it's not like it's an old course for the readers.
—And if there's anything you'd like to add, please don't hesitate!
I think we covered a ton of important aspects in this quick interview. If you're starting affiliate marketing, sign up to AffLIFT to learn the basics. Sign up for a couple of ad networks where you can buy pop or push traffic, and finally, sign up with a couple of networks such as Golden Goose to get hot offers and quick payments (weekly or daily).
Besides that, you'll need a ton of persistence and patience, but in the end, you'll enjoy the process.