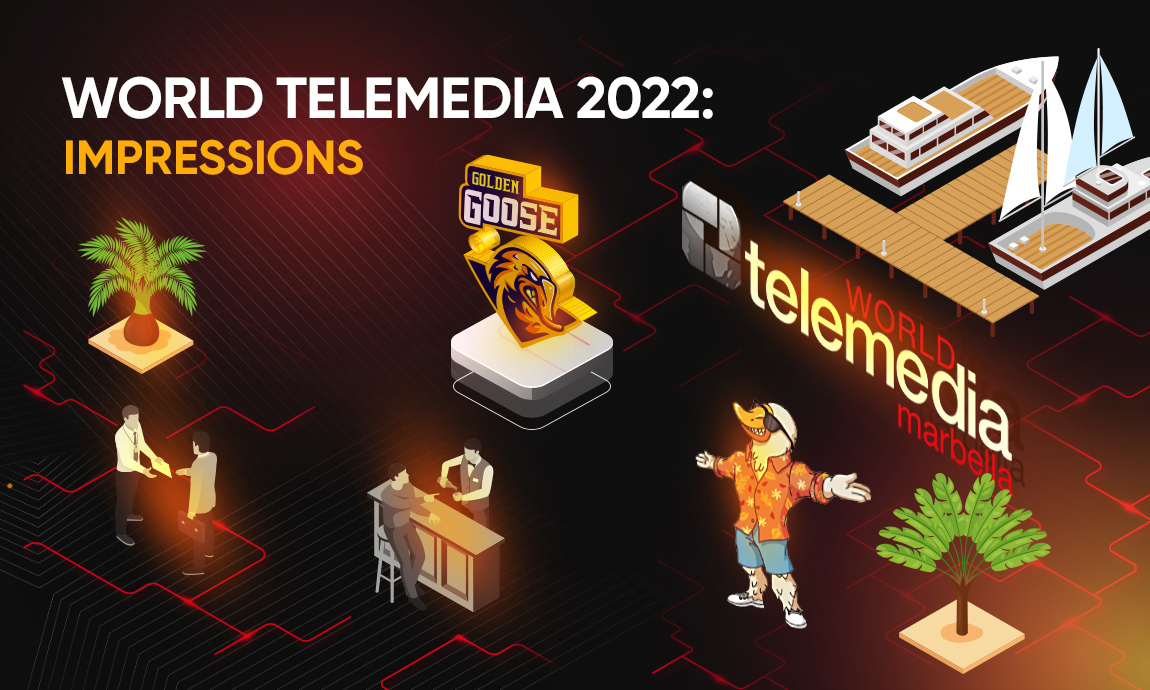 Golden Goose at World Telemedia 2022: Report
On October 19th–21st, Spanish Marbella held one of the most critical events in the VAS, content services, and mobile commerce markets, World Telemedia 2022. Indeed, no other event in the mVAS market can bring European, Latin American, African, and Asian advertisers in one place. This might sound like a miracle, but not for Jarvis Todd and his team at TelemediaOnline. Every year, they create fantastic opportunities for business development for every market participant, and Golden Goose wants to thank them for that.
Golden Goose participated in this crucial industry conference and organized a party for all the mVAS advertisers present at the event. Hence, we want to share our impressions of the World Telemedia Marbella-2022.
Day 1: October 19th, 2022
The Golden Goose Team has traditionally participated in the Exhibition part of the event with our booth. Every year, we welcome all the conference visitors with our branded orange bags full of our merch. However, this year, we decided that simple participation is not enough, so we prepared a super party for our friends and partners, but be patient to read about that slightly later in this post 😉
From 2 PM on the first day of the conference, Exhibition & Meet Market welcomed its participants. We were delighted to see our good old friends from Evina, Empello, Sam Media, MCP, Creative Tricks, and many others. 
Although the conference dedicates only 3.5 hours to networking on the first day, traditionally, the first day of any business conference is the most productive and rich with new acquaintances.
We were happy to realize that our booth was one of the most popular spots in the event, and many participants ended the day with Golden Goose signature orange bags.
The day's ending was the Telemedia Garden Party, organized by our friends from Avatar World Group. We were lucky to win a t-shirt from Argentina's national football team, which now decorates one of the walls in the Golden Goose's office.
Day 2: October 20th, 2022
Although officially the Exhibition's second day started at 10 AM, very few participants really woke up at that time – because of the number of parties on the first day 😉
The panel program of presentations, speeches, and talks during the second day was more than eventful. We would like to mention two of Empello's presentations, which were very detailed and exciting: "Regional Update: Africa" and "Regional Update: Middle East and Asia." We also enjoyed the "Driving Content & VAS Sales With Billing & Payments" panel and "Content Innovations Through DCB & Operator Partnerships."
However, for the Golden Goose team, apart from many crucial meetings, the most important event was the first iteration of our annual Golden Goose Beach Party. The party debut was organized in one of the best beach clubs in Marbella – SALVAJE.
It was an outstanding night! There was a chef who cooked delicious things for us, a DJ with awesome music, dancers with their marvelous performance, a photo zone with a professional photographer, and plenty of networking opportunities!
We were thrilled to see our friends and partners at the party, and we hope they also enjoyed our event. Next year, we want every participant to be back at the party. We will undoubtedly broaden our participant circle with new partners from all corners of the world!














Day 3: October 21st, 2022
The third day is always the hardest one. This year, after the epic GG's party, the third conference day was especially hard for many of the participants 😉
That's why many meetings were held in an informal environment near Booth 33, the location of Jamon & Beer (we want to thank the event sponsors and Jarvis Todd for that).
This is where one of the final meetings for the Golden Goose team took place – our chat with James Williams from Mobile Ecosystems Forum.
We hope no external events will stop the World Telemedia team from organizing the conference in 2023, and Golden Goose will again participate in this outstanding event!