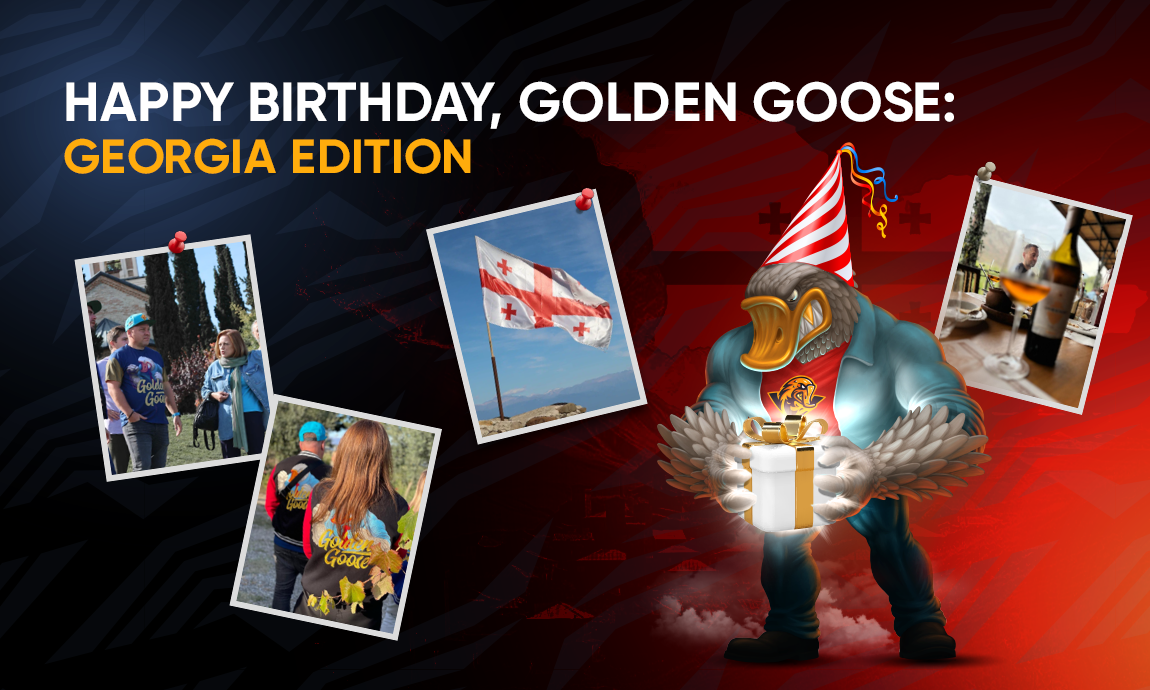 Happy Birthday, Golden Goose: Georgia Edition
For the Golden Goose team, each Autumn means another year as a company.
This year, GG has turned 6!
These six years have transformed us from a small mVAS company operating in CIS countries into a largely successful international business and a recognized mobile content and affiliate market leader.
We want to thank everyone for your warm wishes. Golden Goose has become a reliable partner both for mVAS advertisers and affiliate marketers from all corners of the world, and we're happy to be there for you – for as many years to come as possible!
Since we're an international company, we have employees in seven countries worldwide. The countries are Russia, Belarus, the US, Spain, Armenia, Uzbekistan, and Thailand.
The only chance for us to see each other as a team is our great annual team-building event, which is always timed to our birthday!
We're still a young company and love to have a goooood party 😊
Even in these unstable times, we were able to get together and celebrate this date. Our colleagues from Uzbekistan and Thailand couldn't make it to the celebration, but supported it with their spiritual connection!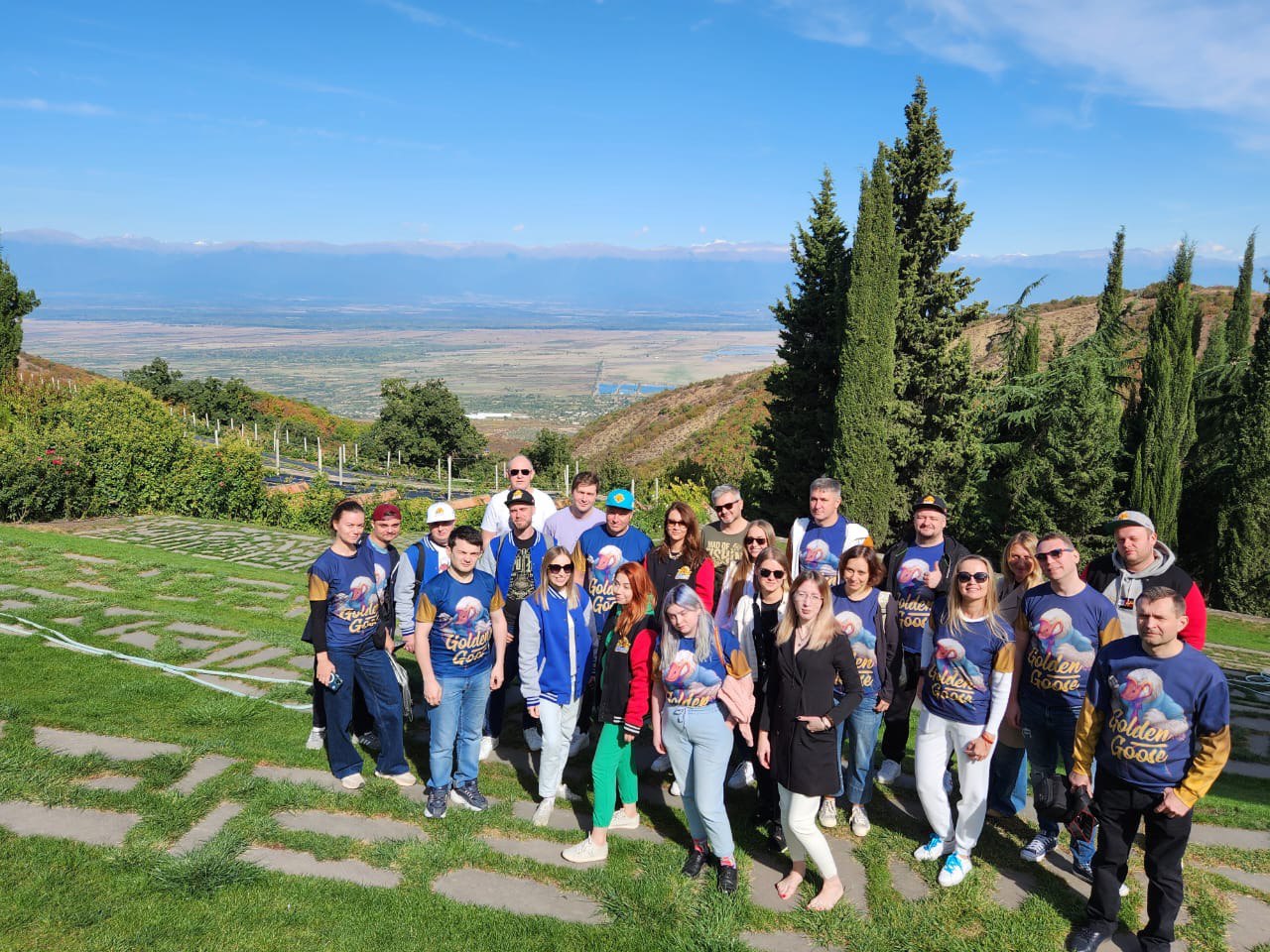 This time, the GG team went to Tbilisi, Georgia, and visited several historical places nearby.
This trip's keynote was amber wine or orange wine. This is an exclusive wine type we tasted in Georgia, and we'll tell you later in the text how it's made.
We want to share our beautiful trip experience with our readers.
How it was
In the past five years, the Golden Goose team celebrated its birthday in sunny Cyprus, had a great time in the Portuguese city of Lisbon, and at the Munich Oktoberfest in Germany. Even the pandemic did not stop us from celebrating our birthday in the Altay mountains in the Russian Federation in 2020. In 2021, we visited Armenia for our birthday celebration.
In 2022, we've chosen Georgia to celebrate our birthday, and there are several reasons for it. Besides its location, which was convenient for all our employees worldwide to travel to, Golden Goose has recently opened a shiny new office in Georgia's capital, Tbilisi.



Now, GG has offices in Miami, Moscow, Dubai, and Tbilisi.
We spent four amazing days in Georgia, and now we're ready to tell you about them in more detail.
DAY 1
Early in the morning on October 10th, we arrived at Shota Rustaveli Tbilisi International Airport.
Like several other places in Georgia, Tbilisi airport is named after Shota Rustaveli, a legendary medieval Georgian poet. He is considered one of the most influential Georgian poets and a great contributor to the country's literature.
We were amazed by the city as soon as we jumped into our tour bus and drove along the night streets. Tbilisi looks impressive in the ocean of night lights.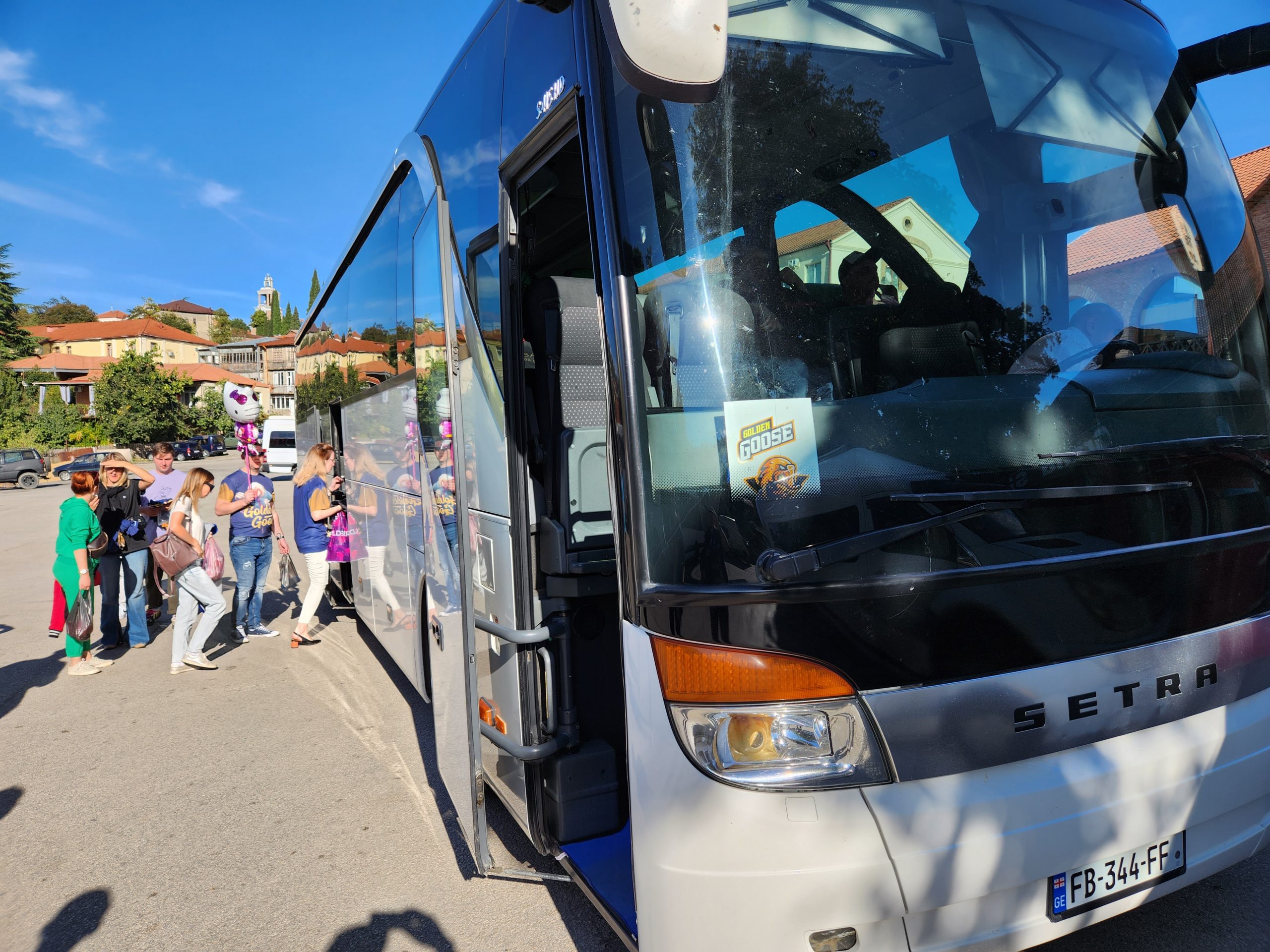 Our hotel of choice was a beautiful and cozy Rooms Hotel on Merab Kostava street. We arrived there around 5 AM and went straight to bed after a long night of flights. 
When we woke up, we were met with a delicious breakfast that felt like dinner, with all the wine and dishes we tasted.
After the meal, it was time to explore Tbilisi! We went for a long walk around the city with a guide leading our way for the whole 4-day trip. 
We enjoyed the major Tbilisi tourist sights, such as the main Rustaveli Avenue, Liberty Square, Bridge of Peace, and Holy Trinity Cathedral, as well as things usually missed by tourists, like tiny sidewalks full of history.














Taking a cable car, we visited Narikala Fortress and saw the twenty-meter statue of Mother of Kartvel (Georgia) right in front of our eyes!
After a four-hour walk around the city, we were starved to death, so our fantastic dinner came just around time.
Hotel Tiflis Palace's Rooftop welcomed us with a magnificent and hospitable dinner served with traditional Georgian wine.
This evening, like all of this trip's evenings, many of us partied till the morning 😊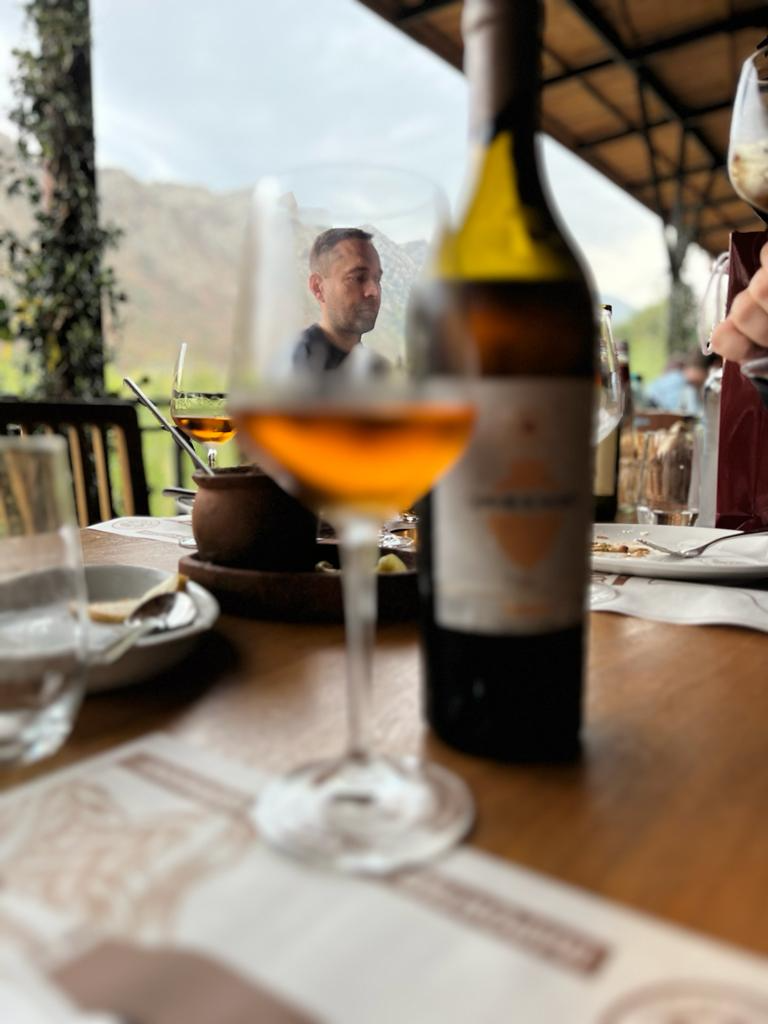 Of course, we tasted a special sort of wine – orange or amber wine. It is a very unconventional wine due to the process of its making. It is made from white wine grapes where the grape skins are not removed. The grape skins stay in contact with the juice for quite some time. In traditional white wine production, the grape skins are removed. This is why amber wine is also called skin-fermented white wine. Orange wine tastes like something between white and pink wines.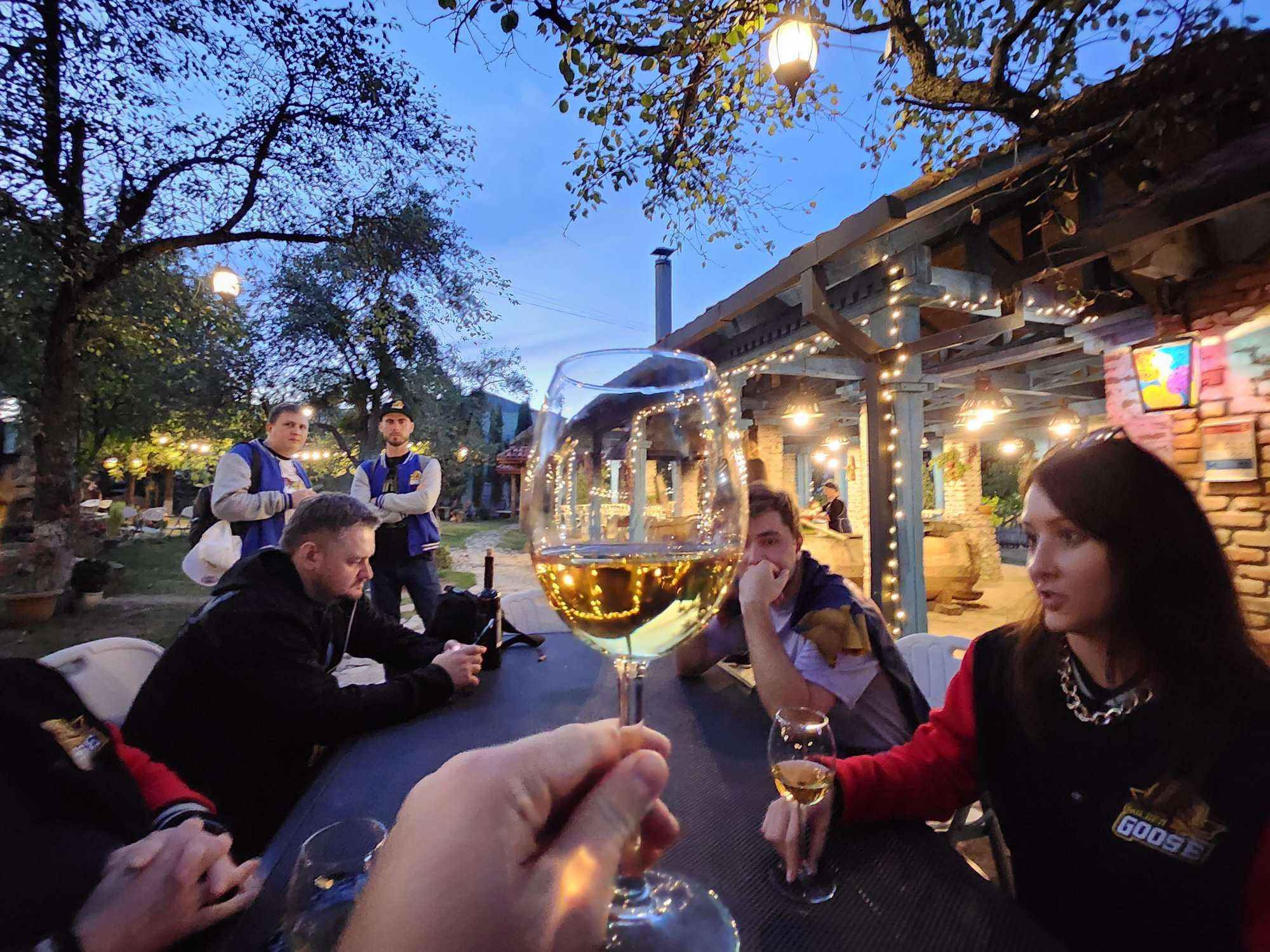 DAY 2
After a pleasant breakfast at our Rooms hotel, we headed straight north! 
Mtskheta, an ancient capital of Georgia, awaited us with its breathtaking sights.
After a two-hour bus ride, we were at Jvari Monastery, a sixth-century Georgian Orthodox monastery. One of few Early Medieval Georgian churches, Jvari survived to the present day "as is." This monastery has been a UNESCO World Heritage site since 1994.










From the rocky hill where Jvari stands, we saw a delightful view of the confluence of the Mtkvari (Kura) and Aragvi rivers.
Seeing historical sights is exciting, but what about dinner? 😊
After Mtskheta, we headed to Château Mukhrani, a great winery located right in a historical estate, Mukhranbatoni Palace. This is one of the earliest vineyards still active today: the winery was founded in 1878. 







In Château Mukhrani, we had a wine tour: an excursion over the winery and its cellars, plus wine tasting. This pleasant experience led to dinner at Château Mukhrani – delicious, as usual. Of course, wine was served during the dinner, which cheered us up after the excursion. 
Then, we were transferred back to the hotel, where we had a couple of hours of leisure time. Then it was time for the main dinner of the whole trip, the Grand Dinner. We went straight to the Tbilisi funicular station. Five minutes up the hill with unbelievable views of night Tbilisi, we were at the Funicular restaurant (named after the public transportation means).
We were welcomed with traditional Georgian dances in the restaurant, which is beautifully located above the city. Really exciting! 
No Grand Dinner should be held without dancing! After the dancers finished their performance, a cover group appeared and started to play everyone's favorite tunes – this was the time for us to stand up and dance ourselves! Wine helps overcome any inner restraints 😊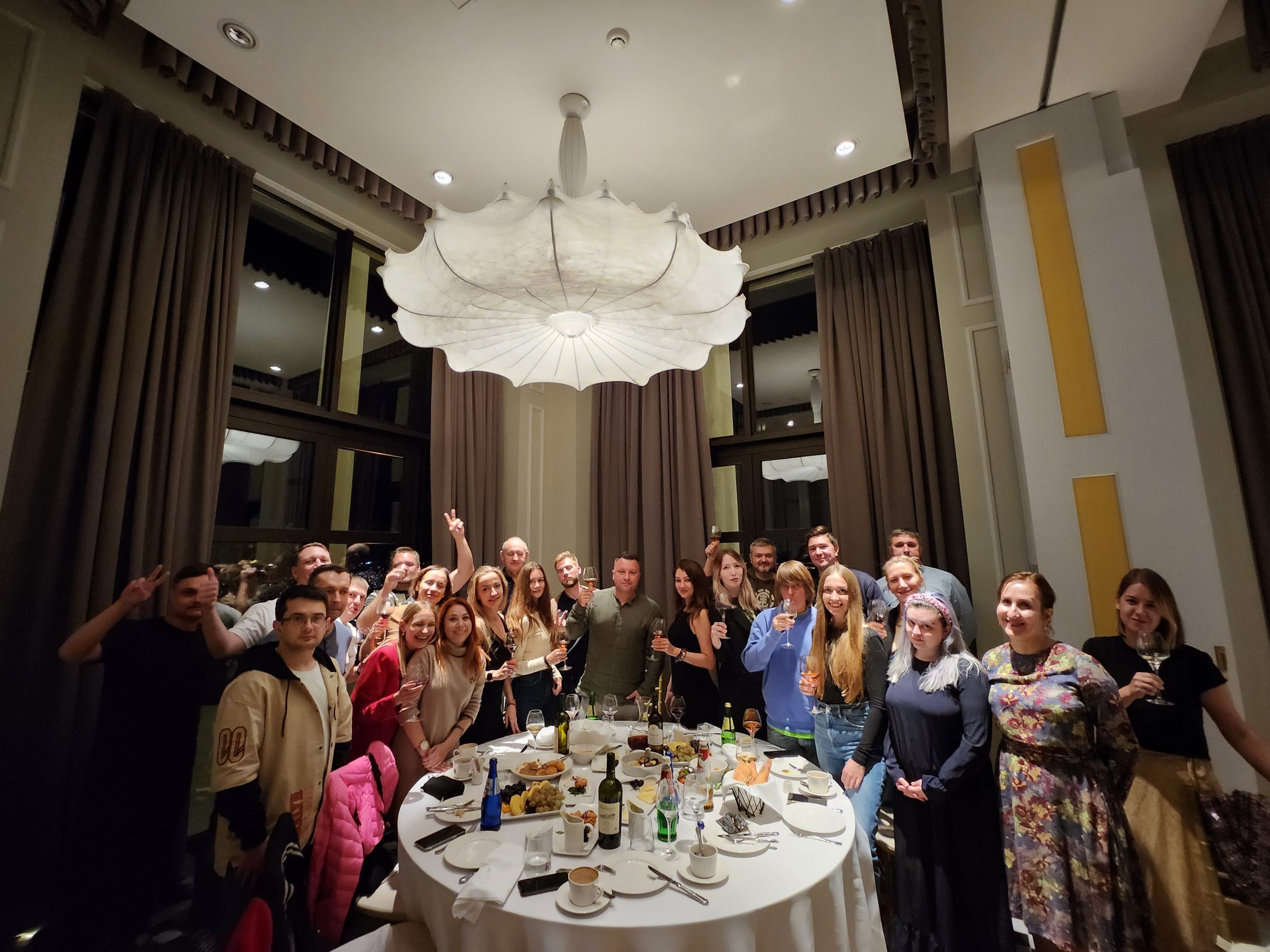 DAY 3
This was the day dedicated to the central wine region of Georgia: the Kakheti region!
In Kakheti, we visited a couple of beautiful ancient temples and churches, including The Monastery of St. Nino at Bodbe.
We had a chance to see the magnificent Alazani Valley from above. It is widely believed that grapes that grow in Alazani Valley are sweeter than in other wine regions of Georgia due to the warmer weather.
The Kakheti region has an extraordinary town called Signagi, also known as the city of love. It happens to have a Wedding Registry Office that works 24/7!











Walking through the cobblestone streets of Signagi, we came to the remnants of 18th-century fortifications surrounding the city. Of course, we climbed up those walls, which personally felt really scary.
Another winery waited for us this day! Shumi Winery in the Kakheti region is considered one of the best wineries in Georgia. This vineyard has won numerous awards for its excellent wine. Apart from the wine tasting and a delicious dinner, we enjoyed the beautiful courtyard of the winery with many cute decorations and lights. 








Shumi Winery also had a DIY class for making churchkhela – a traditional Georgian desert. Turns out it's not so hard to make a churchkhela. All you need is some walnuts, grape must, and flour. Those who participated in the workshop got a chance to eat their freshly made churchkhelas. Although they weren't fully solidified, they were delicious as is 😊
DAY 4
Day 4 was quite an interactive experience. We went to Uplistsikhe, an ancient rock-hewn town where different times meet. There are sights from the Early Iron Age to the Late Middle Ages, plus a variety of rock-cut formations, which are fascinating and quite scary to climb upon. Both pagan and Christian sights coexist there.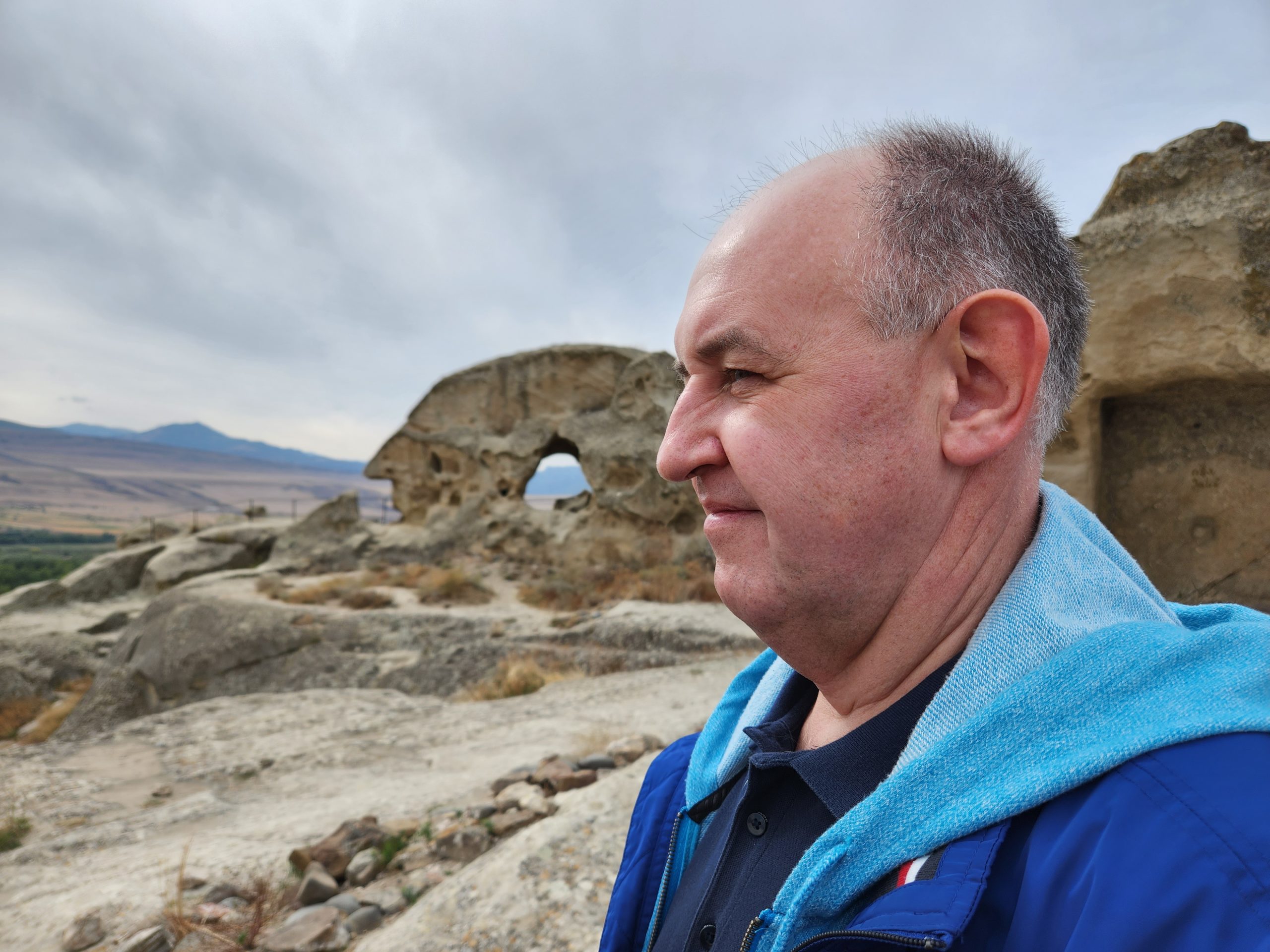 In Uplistsikhe, we had a very cool team-building quest! We split into two teams and searched for questions hidden in bottles over the rocky formations. During previous days, our guide told us many intriguing details and facts about Georgia, so the questions were all about Georgia and its culture. The team that was the first to answer scored a point; believe me, the competition was close!
The winning team got presents – bottles of Saperavi red wine! They were presented at Tsiskvili Mtskheta restaurant, where we had our last dinner in Georgia. Unfortunately, soon it was time to go back to our cities. However, we had the whole free evening, so many of us got together to drink some amber wine 😊
GG's Tbilisi office
As I've mentioned, Golden Goose has recently opened an office in Tbilisi, and several of our colleagues have already relocated there. Soon, some other employees will also be working there.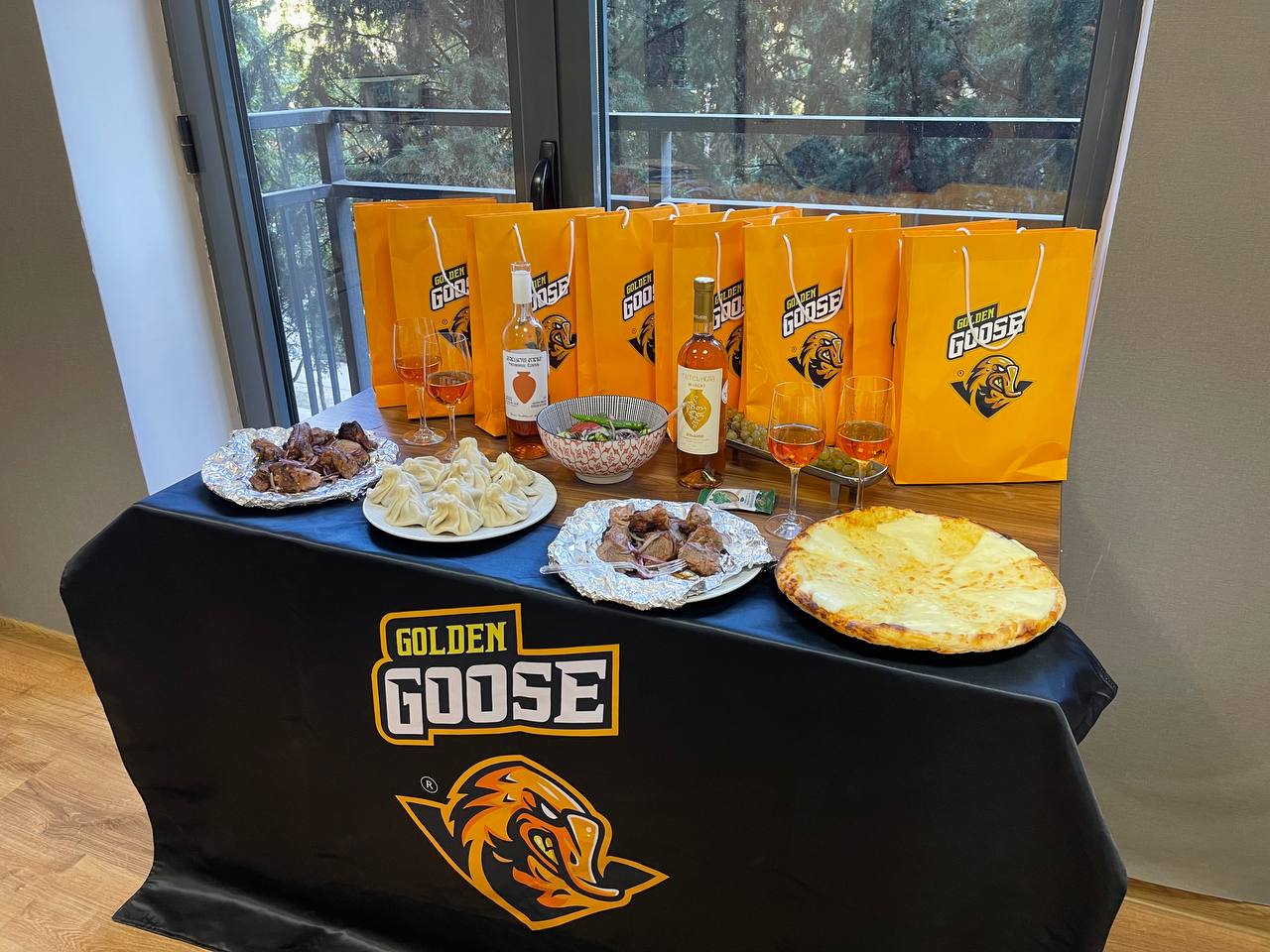 An afterthought 
Golden Goose really cares about its employees. This trip was more than regular team-building activities.
Sure, such events are a chance for us to see each other: GG is a global company, and we live in different countries. GG's employees from all over the world were excited to see each other in person.
However, this trip was more than that: highly educational, it allowed us to explore the history and culture of a breathtakingly beautiful country.
This trip report was written by Anna Pozdeeva, GG's content marketing manager.