Ahead of our fantastic webinar on everything mVAS-related (save the date: October 5th), our media buyer Dima Zitelnikov has tested one of our Colombian offers, using PropellerAds as a traffic source.
Campaign Details
| | |
| --- | --- |
| Affiliate program: Golden Goose | Period: 45 days |
| GEO: Colombia | Revenue: $1948.08 |
| Vertical: Mainstream | Expenses: $1489.8 |
| Category: Games | Profit: $458.28 |
| Traffic source: PropellerAds | ROI: 30.76% |
| Advertising format: Pop traffic | CPA: $0.24 |
| Flow: Pin Submit | CR: 0.33 |
Our media buyer took a Pin Submit offer with a payout of 24 cents and got a 30% return on investment.
Here is a screenshot from GG's admin panel with revenue and conversion rate:

This screenshot from the PropellerAds admin panel shows the statistics on the offer run:

We've chosen the pop-under ad format for this offer. This made life easier for us: we didn't need to create any creatives or banners. We didn't even use a pre-landing page! Sure, sometimes there are pre-landings in pop-unders, especially in the Adult vertical, but this time, we decided our offer would convert well without it – and we were right.
If you don't know already, each offer in the Golden Goose's dashboard has a pre-landing page apart from the landing page, so that might be of use when you work with a variety of ad formats.
Take a look at our landing page: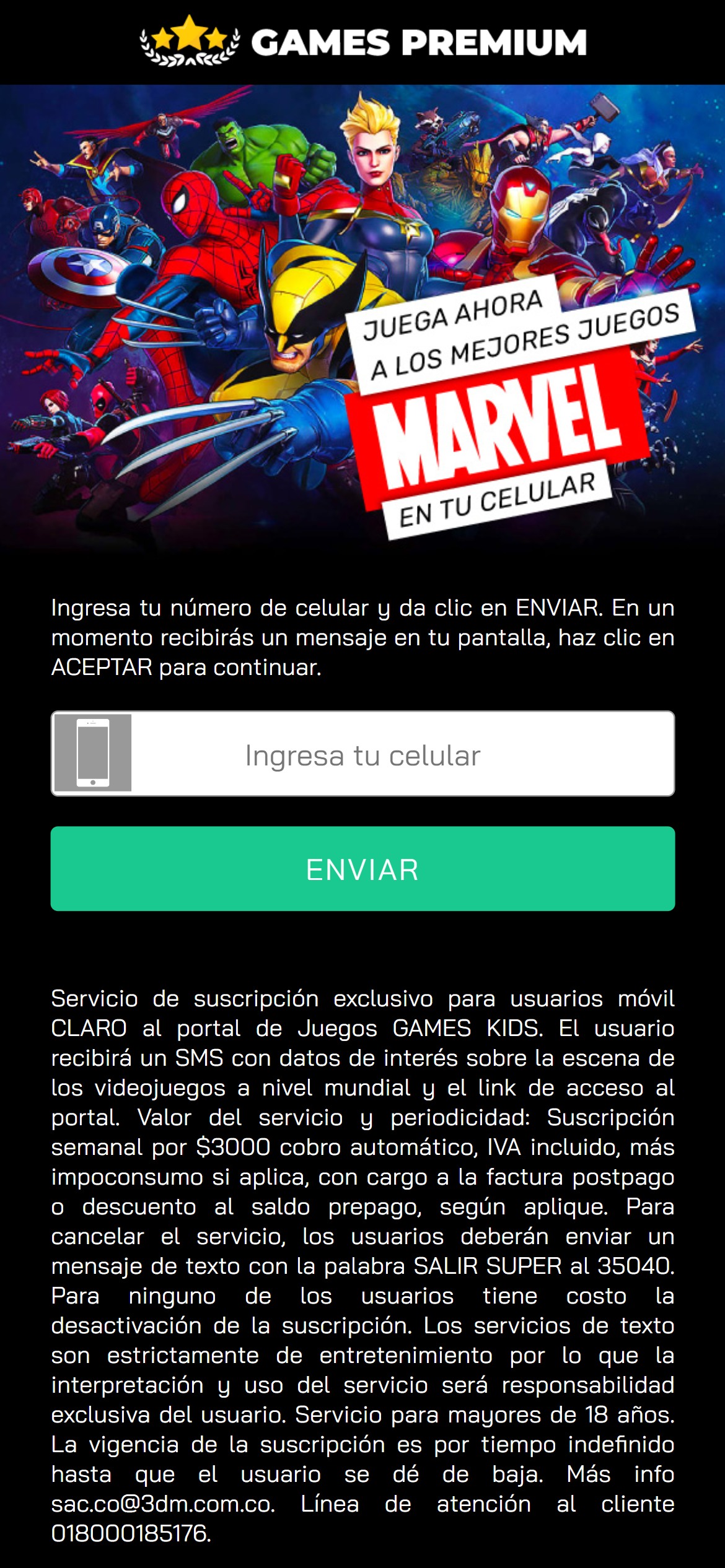 See the campaign settings in the PropellerAds admin panel: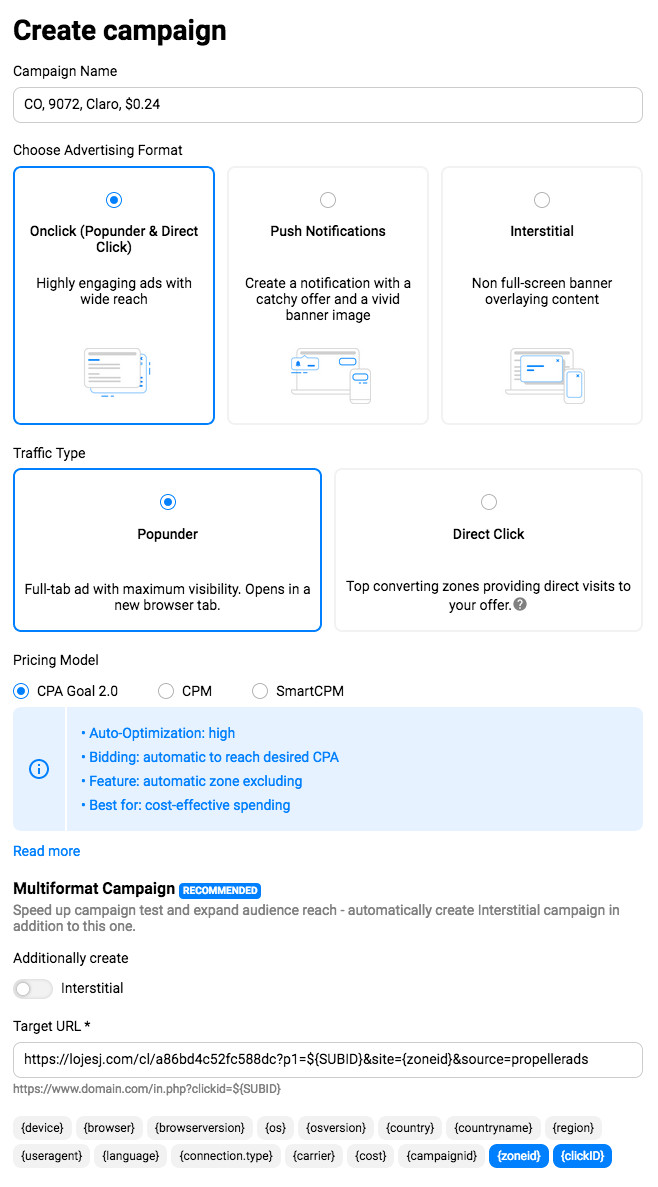 In the "Campaign Name" section, we can set anything.
PropellerAds offers the best settings for the launch of the first campaign, so we left them without changing. 
Choose Advertising Format: Onclick (Popunder & Direct Click)
Traffic Type: Popunder
Pricing Model: CPA Goal 2.0
Multiformat Campaign: We're offered to additionally create an ad format Interstitial, but we refuse to do so.
Target URL: We need to paste an affiliate link to your offer.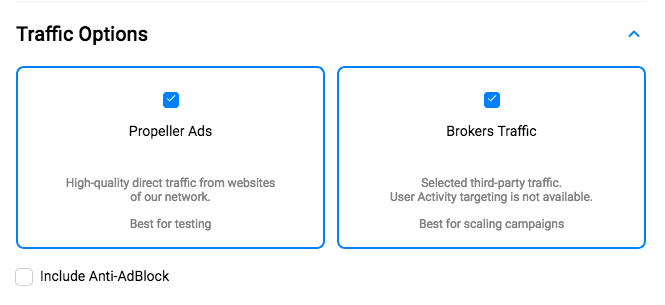 In the "Traffic Options" section, you need to choose both "PropellerAds" and "Brokers Traffic" to get more traffic.
Remove the check mark from the "Include Anti-AdBlock" line to avoid getting traffic from users who use AdBlock.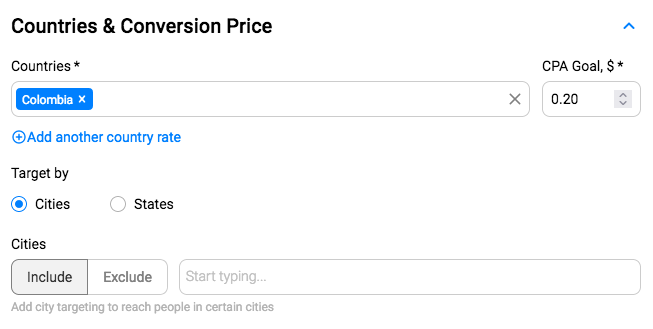 Countries: This is a GEO of an offer. In our case, it's Colombia. 
CPA Goal: We need to clarify the conversion price, around 70%-80% of a payout per lead.
Target by (Cities): There's an opportunity to include or exclude cities of our GEO. We leave it as is as we need more traffic.

The wisest thing to do is to limit the campaign's budget to not waste the whole account's budget.
Since the payout per lead is $0.24, it's enough to have $10 as our daily budget. As an overall campaign budget, we set $50 not to waste more than this sum.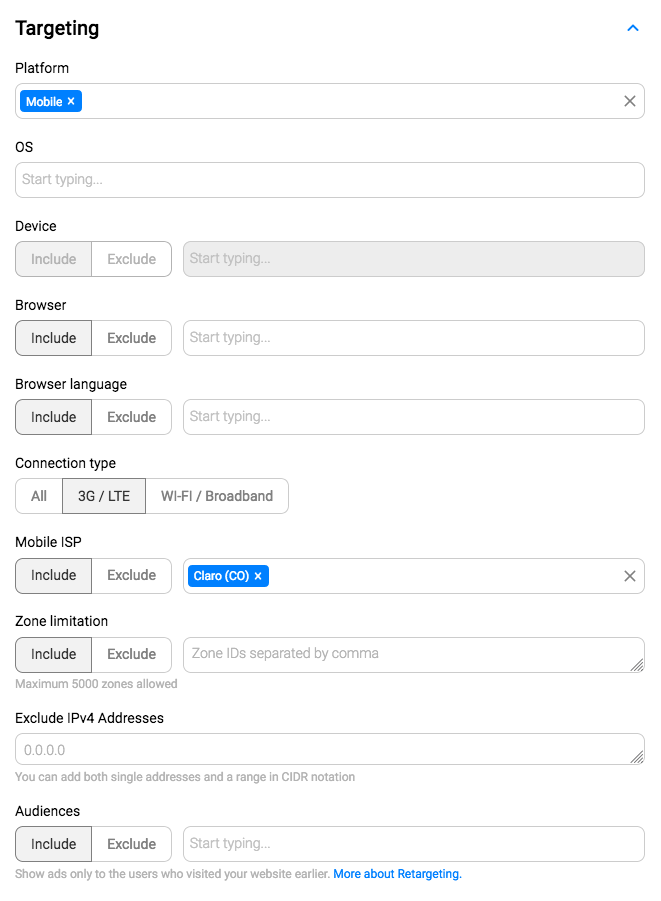 Platform: Since the offer accepts mobile devices, we set up "Mobile."
OS, Device, Browser, Browser language: We leave these sections without changes. In the future, it's possible to optimize them. 
The offer accepts the mobile carrier Claro. We choose 3G / LTE and specify the Claro carrier.
Connection type: 3G / LTE
Mobile ISP: Claro 
Zone limitation: Since the campaign is set up for the first time, we don't have any blacklists and whitelists yet, so we leave this section as is.
Exclude IPv4 Addresses — There's an opportunity to exclude IP addresses, the same as zones. We leave it as is.
Audiences — We're not interested in this option since we run affiliate traffic. Discover more on the topic with this link.

Last, we need to agree to the rules and click the "Start Campaign" button.
An afterthought
That's it for today, folks!
Be cool and run successful ad campaigns with Golden Goose!
We're reminding you about our fabulous free webinar on October 5th at 4 PM GMT+1.
We'll discuss how to successfully affiliate in the mVAS vertical: choose offers, work with creatives and pre-landings, and so much more!
REGISTER FOR WEBINAR
Don't miss your chance to boost your affiliate knowledge!