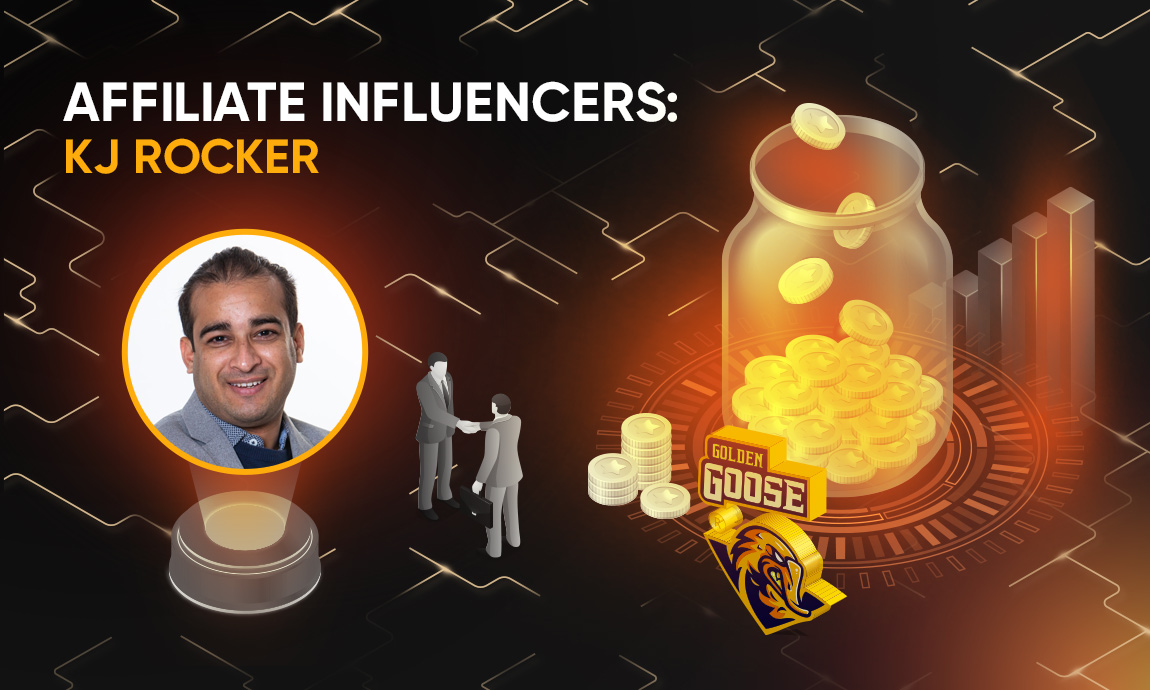 Affiliate Influencers: Meet KJ Rocker
In our series of interviews with affiliate marketing influencers, we ask them the most intriguing questions on verticals, ad formats, and the development of affiliate marketing. 
This time, our guest is KJ Rocker, an entrepreneur, coach, and experienced affiliate marketer. His path to success wasn't easy, so novice affiliates have a lot to learn from KJ Rocker about not giving up too early.
—You've been doing affiliate and CPA marketing for 14 years now. What was affiliate marketing like when you just started? What ad formats and traffic sources were the most popular back then?
When I started affiliate marketing, it was pretty relaxed. I started affiliate marketing by promoting Incentive offers on Yahoo Answers, and later I used to create Facebook viral scripts. Facebook was a great platform for affiliates. With a little technical knowledge, you could have created viral scripts which used to drive millions of visitors every day. In paid traffic, the most popular were Facebook, Google, and my favorite format, PPV advertising. I did really good numbers with Trafficvance back in those days.
—Why did you decide to start with affiliate marketing at all?
For me, there was no other option. At that time, I was a freelancer and I needed to support my family. It was either do or die. Affiliate marketing allowed me to steer away from freelancing and working for other people and instead focus on what I was good at, which is generating traffic, and to build my own business.
—What are your favorite ad formats and traffic sources to work with?
My favorite traffic source keeps on changing based on their performance, as I am not married to just one source, as our industry evolves so do the traffic sources and advertising formats. These days my most favorite is Google, as Native has become a little expensive and TikTok is seeing an increase in the competition, so for now Google is my favorite traffic source.
—What is your main fuck-up as an affiliate marketer? For example, was there a situation when you lost a HUGE sum of money, or all your money, but then rose like a phoenix from ashes? 
These kinds of things are part of the business, and we all make mistakes. My biggest mistakes would be choosing the wrong business partners, trusting wrong people, in terms of traffic, not setting up tracking links etc. There are plenty of mistakes I made throughout my journey but I must say I always rose up better and more powerful. 
—You've been in the industry for so long, can you tell us your thoughts on its future? In your opinion, which verticals will boom in the nearest future, and which ones are going to die soon? 
In my opinion, our industry has a very bright future. However, there are many things which will change and we need to do and adopt. Compliance is going to be a very hot topic for years to come, and in terms of verticals, lead generation is the vertical which I can bet on. In terms of verticals which are going to die, It's hard to say a vertical will die but there are a few verticals which will be harder to promote, Crypto, Nutra etc. being one of them. Basically any verticals where users are being misled or scammed will be hard to promote or will die out. 
—Which country has the highest number of affiliate marketers and why?
I would like to say USA but probably India or Thailand. Thailand because that is the favorite destination of all the affiliate marketers, and India because it is a global IT hub and home to a massive affiliate population. 
—Which GEOs are the most interesting right now for affiliates?
Asia is generally unsaturated and untouched so that is one of the best regions for the affiliates to focus. Apart from that, The Middle East and Africa are a few very interesting GEOs as well, really ripe for affiliates. 
—What are your thoughts on the mVAS as an affiliate vertical? Is it profitable for affiliates? What are the most interesting verticals in general?
Personally, I never ran mVAS, but my business partner Judy Shalom used to own one of the mVAS companies called vykonia. From what I learned from her, it's not as easy to convert mVAS as they used to convert back in the day in tier1 countries.
However, in Tier2 and Tier 3, there are still massive opportunities, and you can easily make good profits with a good angle.  A few verticals I have seen working well are chat services, games, videos etc. 
—What do you feel about fraud and misleading information in the affiliate field?
Sadly, it is the ugly truth of our industry and it goes both ways, affiliates as well as Affiliate networks. Affiliate networks fail to offer any reputable brands and good quality offers for the affiliates. On the other hand, affiliates fail to understand the importance of sending quality traffic and compliance related tasks. Both affiliates and Affiliate networks/Vendors need to work together to bring reputable brands in the industry and work towards actually helping customers instead of misleading them/scamming them.
—What is your advice for someone who's just starting in the affiliate industry? Which formats to try, what to read and watch, what influencers to pay attention to?
If you are starting off, start with easy offers where users don't have to pay any money or don't require too much information from the users, for example, lead generation offers (they mostly collect name, email, and address,) or first page submit offers as they don't require users to make any payments etc. In terms of traffic sources, you can easily start off with push traffic or Facebook and TikTok. It's better to start with the algorithm-powered Advertising networks as smart algorithms make your job much easier.
I would highly recommend, of course, my own blog kjrocker.com, Podcast Marketing Unfiltered, PPC Hero for media buying, copyblogger for copywriting, Conversion Rate Academy, and of course, attend all the industry-related events.
—I know that you get asked this a lot, but please explain to our readers why you are KJ Rocker.
Ha-ha yes, I get asked this all the time. My full name is Khawar Jamil Ur Rasool. You may have noticed that it's a very long and hard to pronounce name. So when I created my first Facebook account, I just named it KJ and added Rocker at the end to balance it. It was just a college days thing, when in your college days you think you are a rockstar ha-ha but yea. In the industry I noticed it's easy for people as compared to my full name so that's how I became the KJ Rocker. 
—And if there's anything you'd like to add, please don't hesitate!
Our industry consists of many amazing people. If you can't understand something, reach out to people who are doing stuff. Ask for help. If you think you are unable to do something, find those who can. Learn from them, work with them, collaborate, and be open to work with others. This will help you learn and grow way faster.