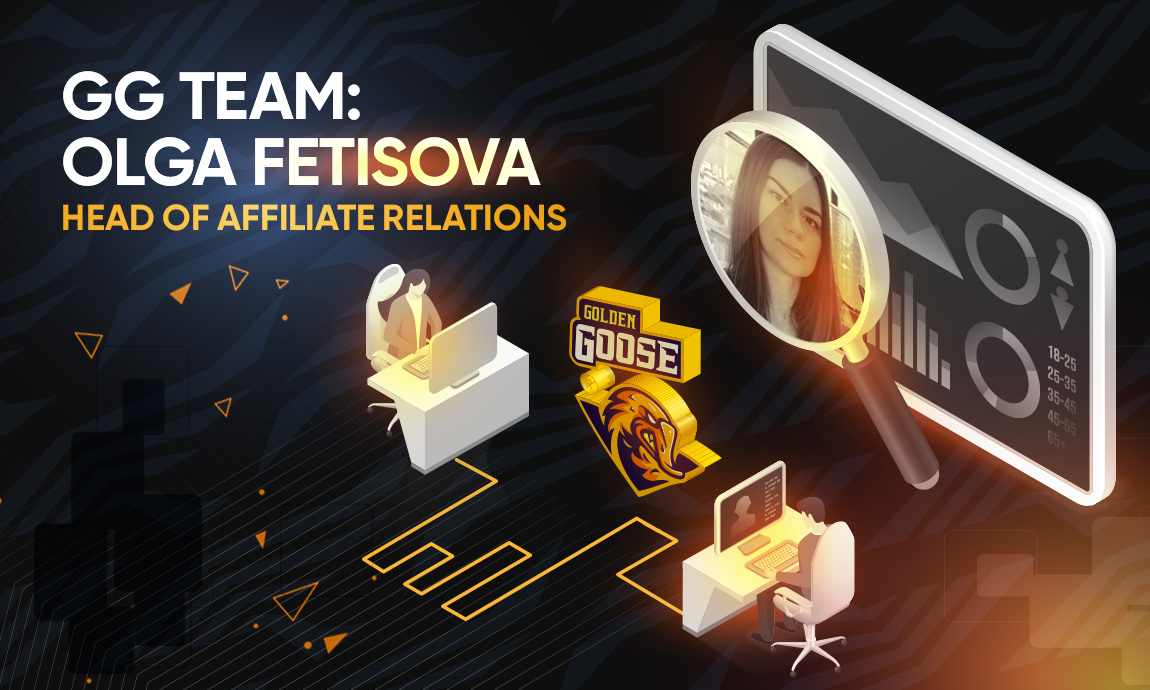 GG Team: Meet Olga Fetisova, Head of Affiliate Relations at Golden Goose
Today, we want to introduce one of the most critical GG employees. Olga Fetisova is the person that's responsible for all the support our affiliate marketers and media buyers receive. She's the head of the Affiliate relations department and manages several sales managers. 
We've asked Olga to share some invaluable secrets for our beloved affiliates.
— Tell us about your responsibilities in Golden Goose. How long have you been a part of the team? What does your department do?
I have worked in Golden Goose since the very foundation of the company. At that time (around 2016,) there were ambitious goals to open up to the affiliate world and rival affiliate networks. I think we've managed the task at 100%.
We've entered the market and strengthened our position. Like a tree, now we have strong roots, a 6-year-old trunk, relationship branches with advertisers and affiliates, plus good fruits that are exclusive private offers, high-profit turnover, and a few offices worldwide.
Currently, I am the group head of the department that works with affiliates. My tasks are leadership, guidance for managers, and strategic goals in Sales direction. I am a task and action generator, so to speak.
It's nice to mention that we have a stable team of account managers, which doesn't change but only grows. This is important for our affiliates for their personal support and understanding of their wishes, opportunities, and decisions we offer them.
By the way, we're hiring! Right now, we're looking for account managers who are specialists in LATAM countries and the Asian region, so if you're in search of a job, drop us a line!
The primary objective of our managers is to give our affiliates a chance to work and earn. Once they're with us, it's no more sitting around for them 😉
Both new and old accounts in our system are constantly notified about new relevant top offers and bundle selections. Additional promos allow our partners to earn more than usual. By the way, we'll have another communication channel very soon: an official WhatsApp Business account.
We have a mutual goal to promote the mVAS vertical where every manager has specific aims, tasks, ambitions, and results.
— Why is mVAS as a vertical profitable for affiliates? 
Working with the mVAS vertical offers everything an affiliate wants and searches for: high conversion rate, maximum profit, fast user flows, absence of holds, huge audience, and variable GEOs. 
As an example of a quick start with an mVAS offer campaign: if an affiliate already has an efficient approach to working with push networks, for instance, uploader type, they won't find any difficulty readjusting their workflow to work with similar mVAS offers (such as uploaders, antiviruses, WhatsApp, Viber.)
We have successful cases of getting affiliates who used to run Email traffic with traffic sources on ССsubmit sweepstakes. As they move on to the mVAS vertical, they can go on with Email, but on mVAS sweepstakes, for example, in MENA countries.
Many affiliates want to earn instead of risking their money. Especially those who just entered a new vertical (whether you're an affiliate beginner or a pro who's burnt out in their vertical.) 
The entry barrier in mVAS is one of the lowest in the CPA market, so compare, set up a campaign, and run some tests, especially when there are so many traffic sources.
— In your opinion, which GEOs are the most interesting for affiliates right now? Is it possible not to be overwhelmed by the vast number of offers in your HUB's varying catalog?
GG's DCB HUB is vast: there are more than 4 thousand active offers right now. We as managers are surely helping our affiliates not to get lost in this diversity:
In the welcome chat, our bot clarifies which type of traffic an affiliate works with and sends the appropriate top offers selection.

You can find a relevant top offer selection in the Dashboard tab, plus it's possible to search for an offer with selected parameters. You can create a campaign by simply clicking a single button next to the chosen landing. Let me spill the beans: this page is going to radically change very soon. It'll be more efficient to pick up the offers for your traffic sources and even specific approaches.

Each week, we create presentations on the best weekly offers to choose the most converting landings, bundles for one GEO, different working schemes with traffic (Downloader, Games, WhatsApp, Video,) and recommend suitable ad formats (Pops, Push, InApp, WebView, etc.)
Each week, we increase the rate on the offer selection from the Dashboard list so that we can stress the most relevant offers the market can provide.

What about new offers that spectacularly entered the game? The fresher and cooler a new offer is, the more bonuses an affiliate can get. We send such offers selections twice a week via email along with our brand-new marketing format, a first-ever affiliate marketing comics! If you haven't subscribed yet, you can do this

here

.

We regularly launch global promos with the marketing budget and in partnership with the advertisers so that affiliates can generate more profit.

We created

a special course

on affiliate marketing in mVAS that is invaluable for any beginner and practical for more experienced affiliates. It explains the specifics of CPA marketing in mVAS industry, provides instructions on how to use trackers, set up campaigns and start earning!
Some of the most relevant GEOs are South Africa, Egypt, Malaysia, the UAE, and Thailand. I think most of the affiliates already know that. Eastern European markets (Romania, Bulgaria, Poland, etc.) are promisingly on their way to the top. 
I want to emphasize the Latin American market (LATAM.) Right now, we're working with 15 advertisers for LATAM traffic: Columbia, Peru, Chile, and many others are the top GEOs that will keep growing. Currently, there isn't as much competition as in South Africa; most of the population actively uses smartphones, so they are influenced by various marketing tricks that stimulate purchases and registrations. 
— Why do different affiliate networks provide different rates for the exact offers? What should an affiliate do when seeing a more or less profitable rate? Is it always a good idea to take an offer at an affiliate network that provides a higher rate?
It's good to notice that affiliates often see practically the exact offers in different affiliate networks but with varying rates. Naturally, many would give up on the offers that have a lower rate. I'd like to explain why it's not always a good idea, though.
It's better to clarify an offer's conditions or even test it in different affiliate networks to see the results.
First of all, an offer with a similar design may have two different flows. For example, MO flow and PIN submit can have different conversion rates, and as a result, the rate can vary up to 30%. PIN flow is more effective conversion-wise than MO flow and can bring a +30% conversion rate. For more on conversion flows, read our dedicated article on flows in mVAS. Just as one example: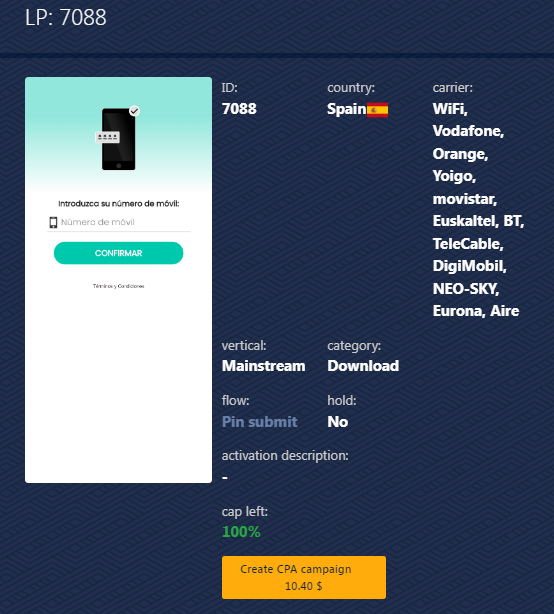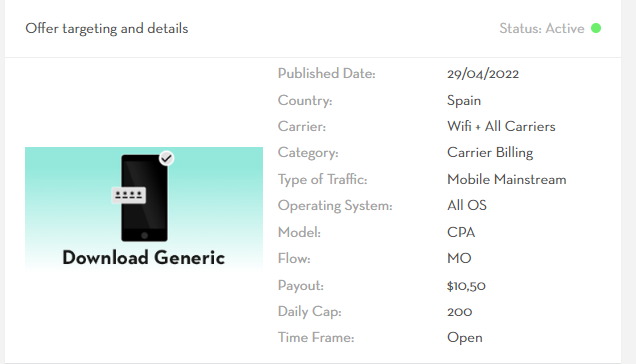 The offer rate might be standard, but after your test, when a manager evaluates your traffic quality, they might increase your rate individually.
Each affiliate network tries its best to attract affiliates. A rate that's two times higher than in competing networks? It's possible, but the shave is also possible. Here, I want to clarify that each promo in Golden Goose dedicated to rate increase works with a marketing budget provided in advance. This means we don't have any shave!  
Some affiliate networks are based on media buying teams. When they receive a reasonable rate from an advertiser for their traffic (Google, WebView, InApp traffic), they offer their affiliates this high rate to work within a variety of flows and traffic sources. Sure, the rate might be higher, but most often, it's temporary since the quality of traffic might worsen; plus, there is always a risk for your traffic sources when you work with an affiliate network with a strong media buying team. 
I have only one recommendation: start campaigns and compare the results with split testing. 
— Golden Goose has a vast interface for campaign creation. Why is this? Maybe you can give some advice on efficient campaign adjustment?
There are two ways to create a campaign in Golden Goose. The first one is with the Dashboard search. It's enough to press the button on the card with the chosen offer. The second one is with the campaign section: you can create a SmartLink campaign or a campaign with manual offer selection.
Sure, the interface for campaign creation is vast. It's connected to the mVAS vertical since it's extensive. There are many GEOs, two verticals (Adult and Mainstream,) and an abundance of categories to choose from (video, games, downloaders, sweepstakes, music, health, etc.) In most cases, an offer can work with a specific carrier or all carriers + Wi-Fi traffic.
Here's a step-by-step guide. You need to choose a type of traffic (a vertical,) Adult or Mainstream, and the specific category. If required, you can choose all of them. Select a country, carriers, and the offers themselves.
The second step is to choose bundles or pre-landings. You can use or reject them. With the third step, you receive the final link to work with, where you can write postback and traffic back URLs and get the chosen carriers' IPs.
SmartLinks, which are part of the campaign functionality, are helpful. Suppose the chosen offer is turned off or runs out of cap (we'll notify you about that, but there's a chance you won't be able to do something immediately). In that case, the SmartLink automatically sends your traffic for similar offers for your clicks' IPs.
As for the efficiency of campaign adjustment, our first recommendation is to test several offers from our Dashboard selection or managers' advice. A so-called random rotation in a campaign evenly transfers your traffic for all the chosen offers. After you've run the random rotation, you'll see which offer and which bundle is the most efficient EPC-wise. As a result, you'll be able to set click offer rotation in your campaign. Like with the first click, your top offer will be shown, and other offers will be shown for the second and subsequent clicks.
Very soon, we'll release a video guide on how to create a campaign in GG on our YouTube channel, so subscribe and turn on the notifications not to miss it 😉
— What are your thoughts on the future mVAS and DCB? 
The main advantage of the mVAS vertical is that it can adapt to new requests and conditions. When one door closes, another always opens. Even with many restrictions and regulations from carriers, people will always use smartphones. The DCB technology is one of the most accessible and popular monetization technologies for various digital services, which will stay relevant. 
For example, there is a rise in new advertising platforms these days that might be promising for promoting mVAS services, such as Huawei Ads. It's an exclusive platform for promoting products in Huawei services with an audience of more than 700 million users.
 — What is the most exciting episode in your GG career?
Maybe not the most exciting case, but indeed a hilarious one. One of our rival affiliate networks had landings in their catalog which looked exactly like ours. When we looked at it, it turned out they were copied from our archives. Even personal notes of our managers were nicely fitted in the web code 😊
— What is your main fuck-up in Golden Goose?
The most unforgettable fuck-up was when we bought subscriptions with a high price from traffic that didn't bring any subscriber rebilling (auto-click.) We weren't prepared for such a situation. Sure, we were able to respond since we had all the analytical tools on the platform, but probably not as fast as we can do now. The money we lost wasn't enormous compared to the whole financial circulation, but I'll remember the episode for a long time 😊 
To conclude, I want to wish everyone to run profitable GG offers and be happy every day of your life!