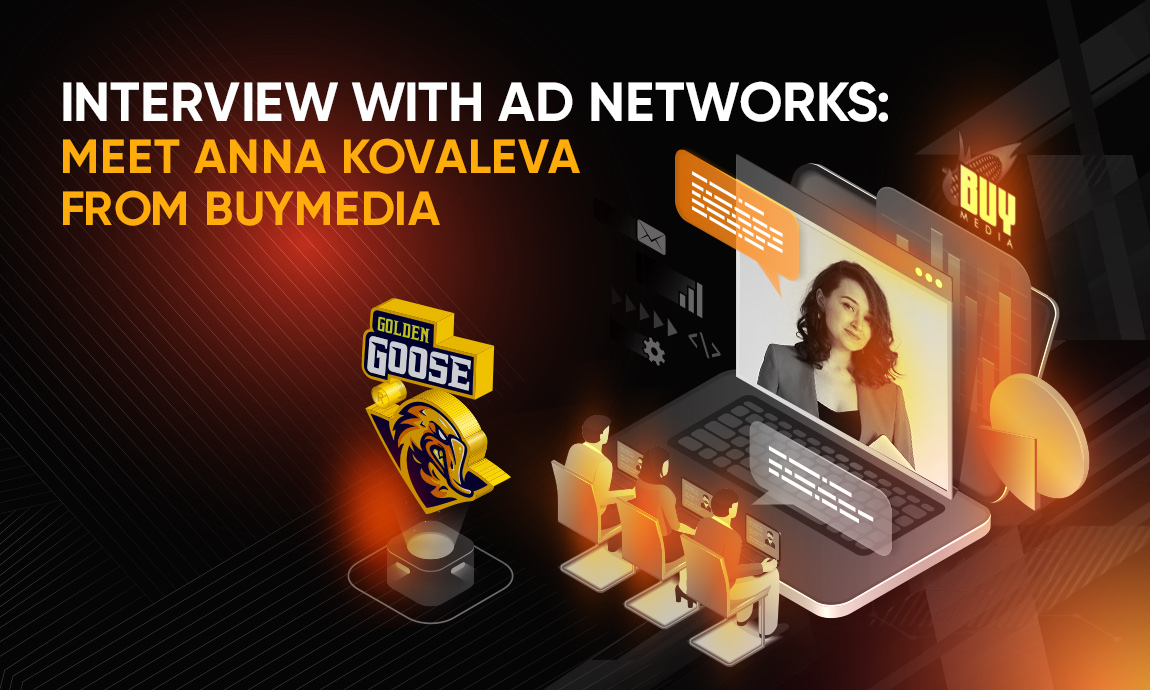 Interview with Ad Networks: Meet Anna Kovaleva from BuyMedia
We continue to talk about the mVAS market and share the opinion of Ad Networks, what they think about this industry and what share it takes in their traffic.
1) Hi, thanks for agreeing to this interview.
Tell us a little about yourself, the company, when did you start, how many people are in the team, some key milestones and achievements, etc.
Hi, My name is Anna Kovaleva, I am the CEO of Buymedia.biz.
We opened relatively recently on June 1, 2019.
During this time we managed to get on our feet, grow and become a worthy competitor in our niche. Our main achievement is that we go our own way and introduce new functionality for both Advertisers and Publishers, which can make life much easier. For example, for the preroll format, you can create a promo without a video, using only gif and the possibility of voice acting in our constructor. This makes life much easier for our partners.
2) What type of traffic do you offer and what do you think is the most popular? What geos do you currently have in your Ad Network?
We have 3 formats now:
Preroll;
In-page push;
PopUnder / ClickUnder.
At the moment, the most popular is in-page, since this is the most familiar format for partners and many already know how to work with it and scale their bundles to different Advertising Networks, including ours. The main geos at Buymedia are Russia and the CIS.
3) Tell us, if it's not a secret, which verticals are the most popular in your network and for which of them do you think your traffic is most suitable?
Since we have traffic from 18+ sites, dating, adult games, webcams, mVAS and sweepstakes are the best.
4) What is the share of mVAS offers among advertisers now? Maybe you can share some numbers and volumes?
mVAS offers in general are not taking up such a large part now, especially after we banned traffic to Megafon. But nevertheless, our regular partners consistently drive traffic to Beeline and the CIS countries, and not only from the usual clickander, but also from pre-rolls.
5) If we talk about traffic that is in the greatest demand for mVAS offers, what are the main formats and which geo?
As I said a little earlier, partners mostly use clickander and pre-roll formats for this vertical. Russia, Belarus and Ukraine are doing well at the moment.
6) Are there any restrictions when working with mVAS offers?
We do not impose any restrictions, except for working with Megafon. The main thing is for the partner to show in his campaign that the advertising campaign is aimed at mVAS. This is very important, since some Publishers do not want to rotate such solutions on their sites, and we, as an Advertising Network, respect their decision and do our best to work with us comfortably for all parties.
However, if Publishers go for the trick and do not check the box or try to drive traffic to Megafone, then they may be blocked. The rules of the Network, there are rules of the Network, and we must all adhere to them.
7) Since our interview will be read by many novice Publishers, can you give some tips on how to properly start working in your Ad Network in order to avoid the most common mistakes for beginners?
There are only 2 councils:
1. Don't be afraid to write to managers. This applies to both Ad Network managers and Affiliate Managers. We are all interested that you succeed and that cooperation grows into permanent and stable work.
2. Read the help. Many ad networks and services in arbitration have their own help centers. Please, before work — familiarize yourself with them, this will help you decide whether this service is right for you before starting work, and you will be able to compose questions for the manager to better understand the work. And this is very important, since each Advertising Network has its own nuances and it is better to disassemble them on the shore.
8) One of the most popular formats for working with mVAS has always been Push and Pop-traffic. Maybe there are any recommendations when launching campaigns on this type of traffic?
Check the link :). If you think you've already checked it out, check it again. Make sure that all macros and labels are set so that afterwards you do not have problems with the fact that you forgot to specify something somewhere and that everything opens from the operator and device you need. After the link, check that the ip ranges are specified in the required field and are enabled.
9) What advice would you give to a Publisher who has just registered in your network and wants to launch mVAS offers? Where to start and how to act in order not to lose the budget?
Talk to the manager of the Affiliate program, where he is to drive taffic to, so that they suggest what targets to set and give out relevant IP ranges and suggest the best offer at the moment.
Recheck the campaign after creation. Ask an ad network manager, help with verification, or ask to create a campaign, most managers are aware of what settings need to be set for this vertical. The only thing is that they will not expose you to the ranges allowed, so be careful.
10) As you probably know, mVAS offer advertisers have strict KPIs for traffic quality. How do you control the quality of traffic delivered by publishers to your network?
Buymedia has its own anti-fraud system that allows us to sell the cleanest traffic to our partners. And what about how not to get adult traffic to mainstream offers — then do not launch mainstream offers in adult networks and you will be happy.
If you are driving traffic from an Ad Network where there is mixed traffic, carefully check the campaign settings and ask the network manager 10 times what it means this or that button.
Remember — you will get a fine if something happens, and not an Advertising Network.
11) Which ad formats do you think will become popular, and which ones, on the contrary, will become a thing of the past in 2022?
In-page push will definitely be in the top in '22, and this is noticeable in the dynamics of this year, when many ad networks have added this format to themselves. It is difficult to say whether a certain format will become a thing of the past, since now the advertising formats that are used by partners are left on the market, and if they are used, then it pays off.
On the other hand, search engines can introduce new restrictions and it will be unprofitable for sites to set any format, as there will be a risk of falling under pessimization. But this cannot be predicted in any way.
12) In your opinion, the mVAS vertical will grow in your traffic next year, and perhaps you will be able to offer special solutions for it next year?
Now the CIS and the World Wide market are developing very actively in this vertical, so there will definitely be growth. For special offers, I can only say that we give 5% for the first replenishment with the GG promo code 🙂
13) Thank you for your time, we were glad to talk to you.
Thank you too Golden Goose