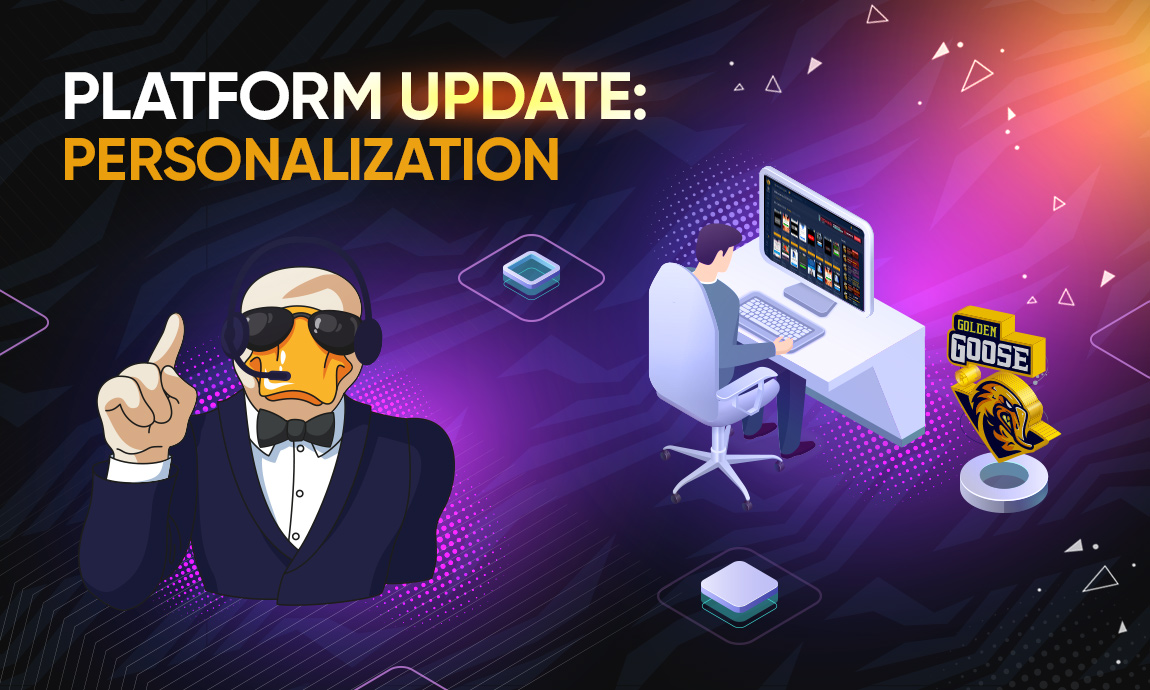 Get up close and personal with Golden Goose
The Golden Goose platform is all about maximizing partner earnings with quality mVAS offers and team expertise. But did you know about another key element in the formula for success? We are talking about effective communication and personalization. At Golden Goose, we treat this element with the utmost care, and we want our affiliates to take full advantage of the latest platform update we're about to introduce.
The Power of Personalization
Just as no successful campaign is possible without fine-tuned targeting for an audience, long-term profitable partnerships are impossible without getting to know each other better. Hence, our affiliate managers always make sure that you feel right at home no matter what your affiliate marketing background is. In order to make their work even more efficient and personalized, we've made important changes to the signup process.
It used to take a while to learn about affiliates, and there was a considerable time gap between the initial introduction and launching a campaign. And in today's world, you want to get to work as quickly as possible to have an edge. So, we give you this edge by saving time on introductions and asking the right questions upfront.
What's new?
We've completely revamped the account activation process, allowing you to personalize communication when you get in touch with your manager. To demonstrate the changes, let's have a step-by-step walkthrough.
Step 1. When you sign up on the platform, the first question you see is about your overall experience with traffic monetization. It sets the tone for the following communication, recommended offers and whether you need help with learning the ropes, or are experienced enough to dive right in.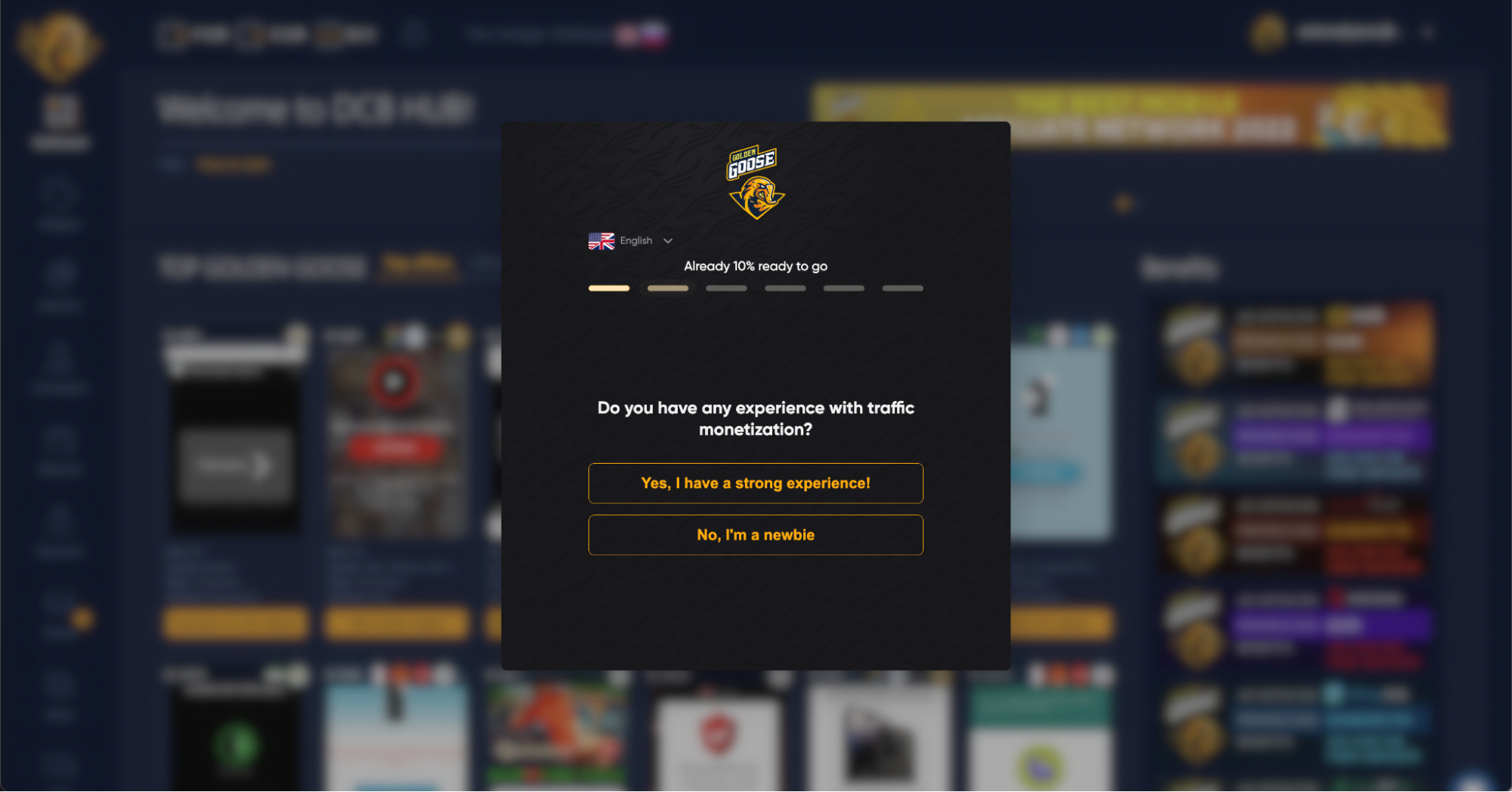 Step 2. Next, you will be asked to specify the traffic type and verticals you're familiar with. Again, this will help us create a lineup of relevant offers for you and save time.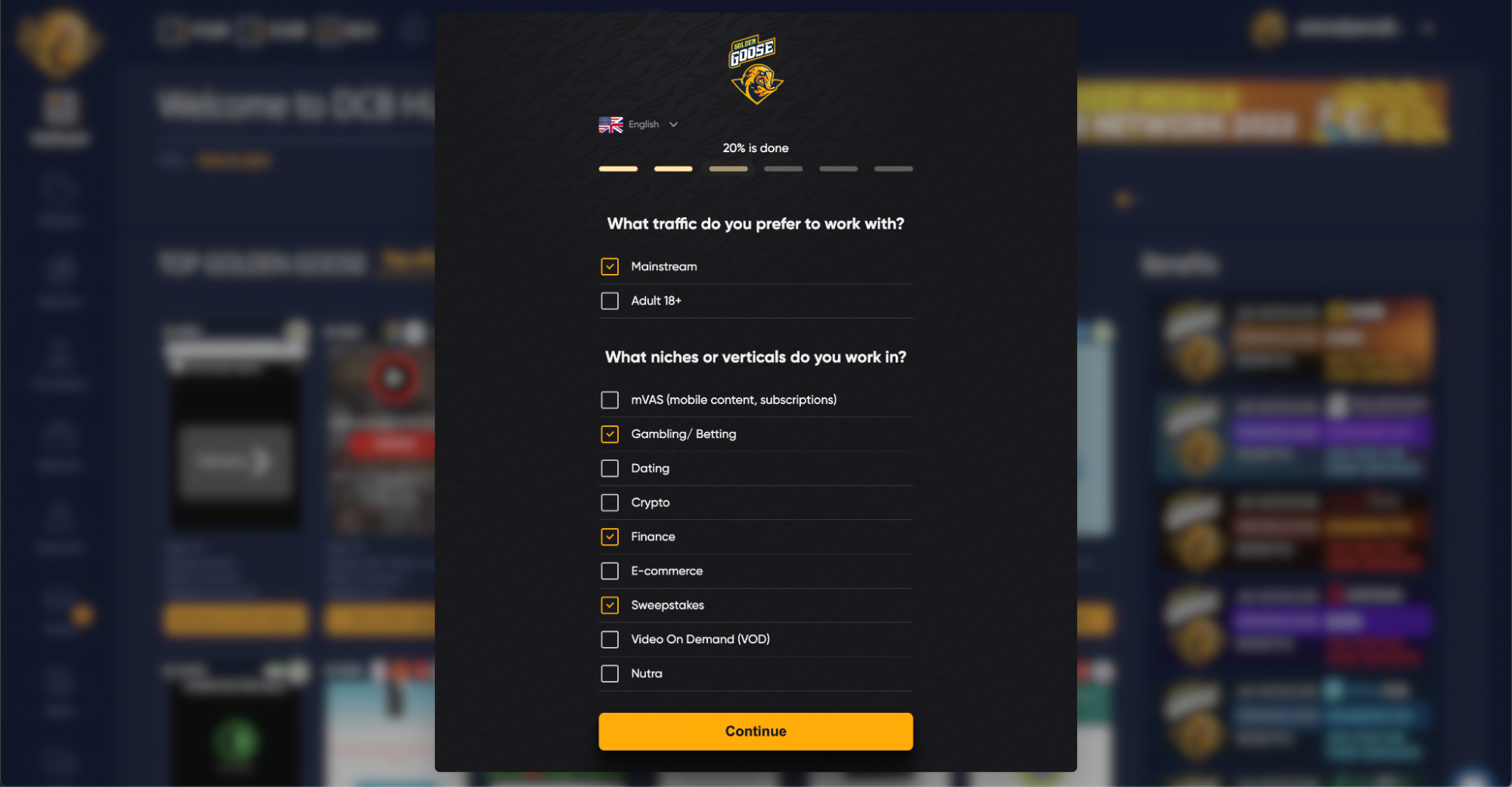 Step 3. Going further, you will need to choose desirable traffic sources. Since we rank our offers based on the traffic sources as well, it will be helpful to pick the optimal ones.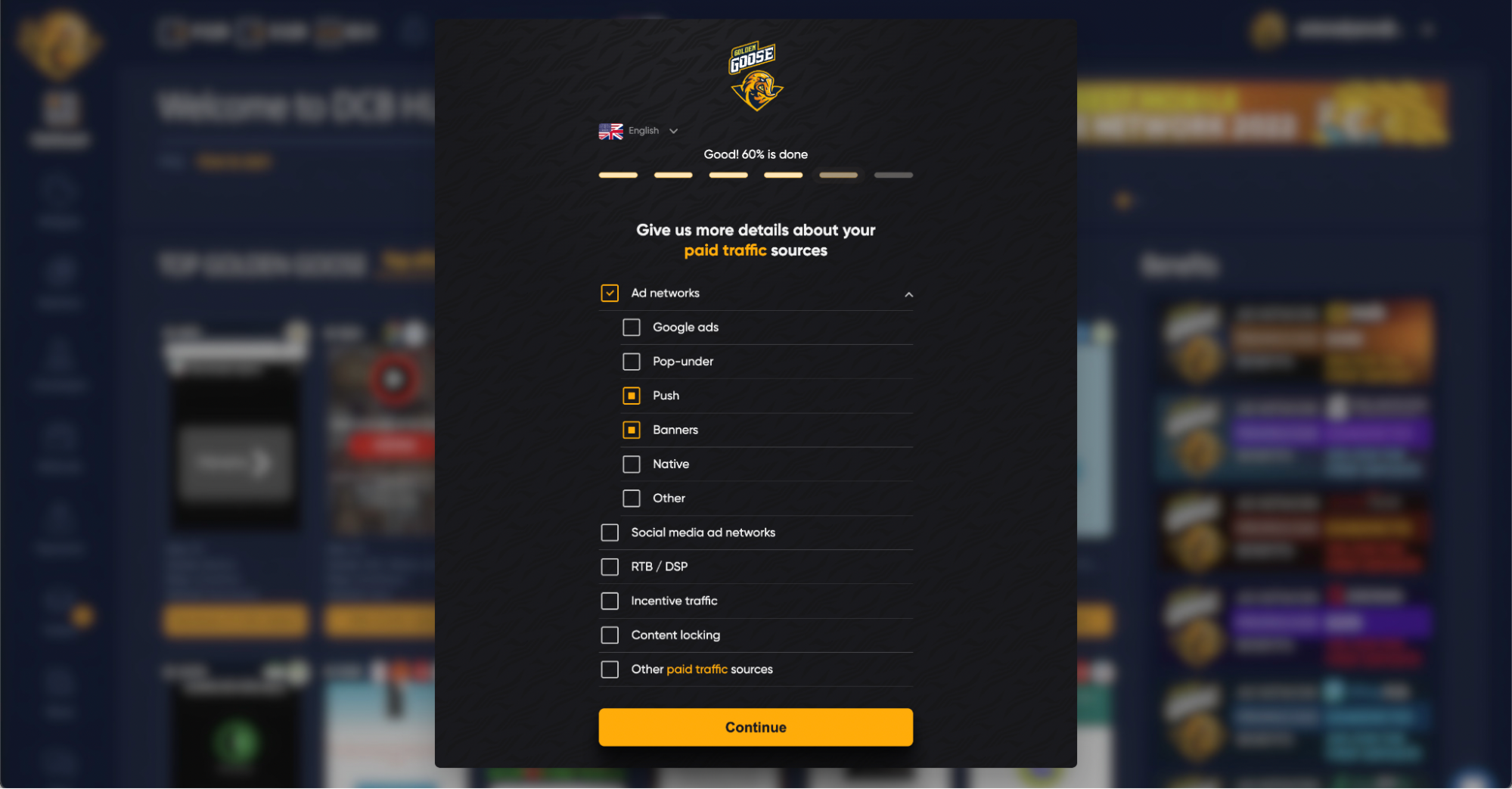 Step 4. The final step is to select the monthly earnings range you're comfortable with and the GEOs you wish to target.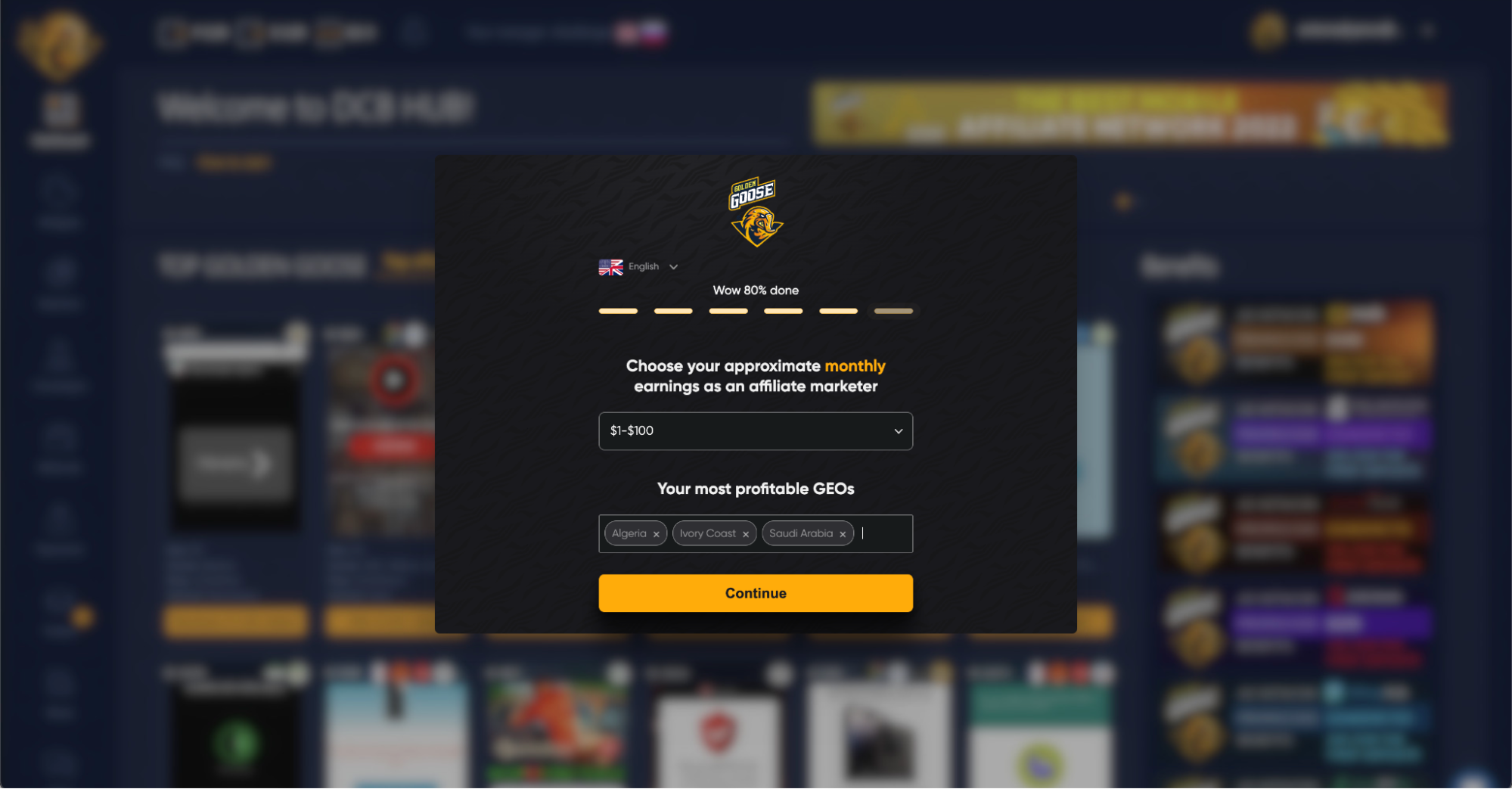 These 4 simple steps allow us to tailor the communication to your specific case right from the get-go. With the information you provide, an affiliate manager will be able to make more accurate recommendations and get you on the right track with your campaign.
By the way, once you complete the activation process, you will be able to access insights from our experts that cover the intricacies of the mVAS offers to bring you up to speed.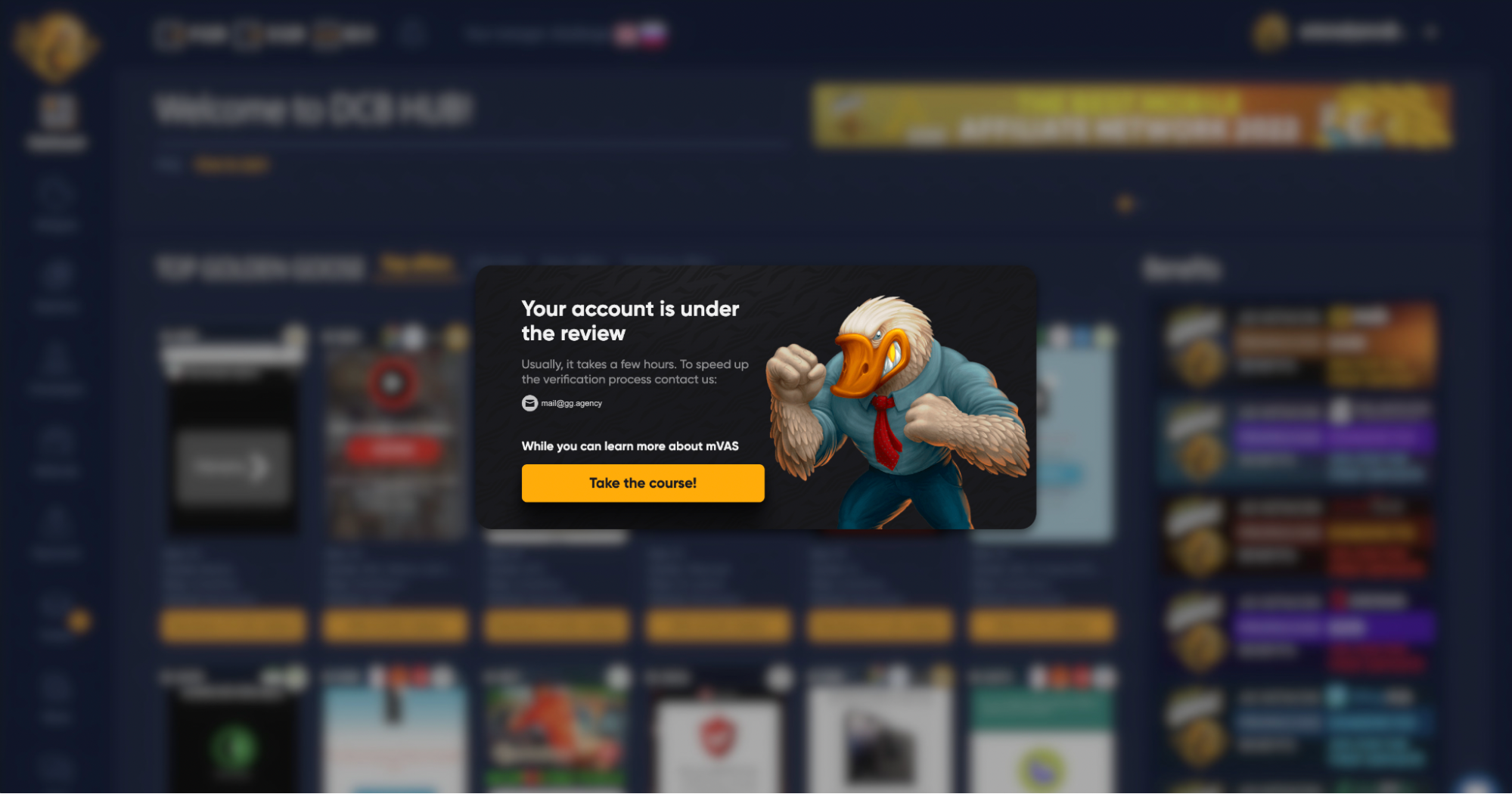 Stay tuned for more platform updates in the near future, as we are hard at work expanding functionality and improving user experience. You never lose with the goose!