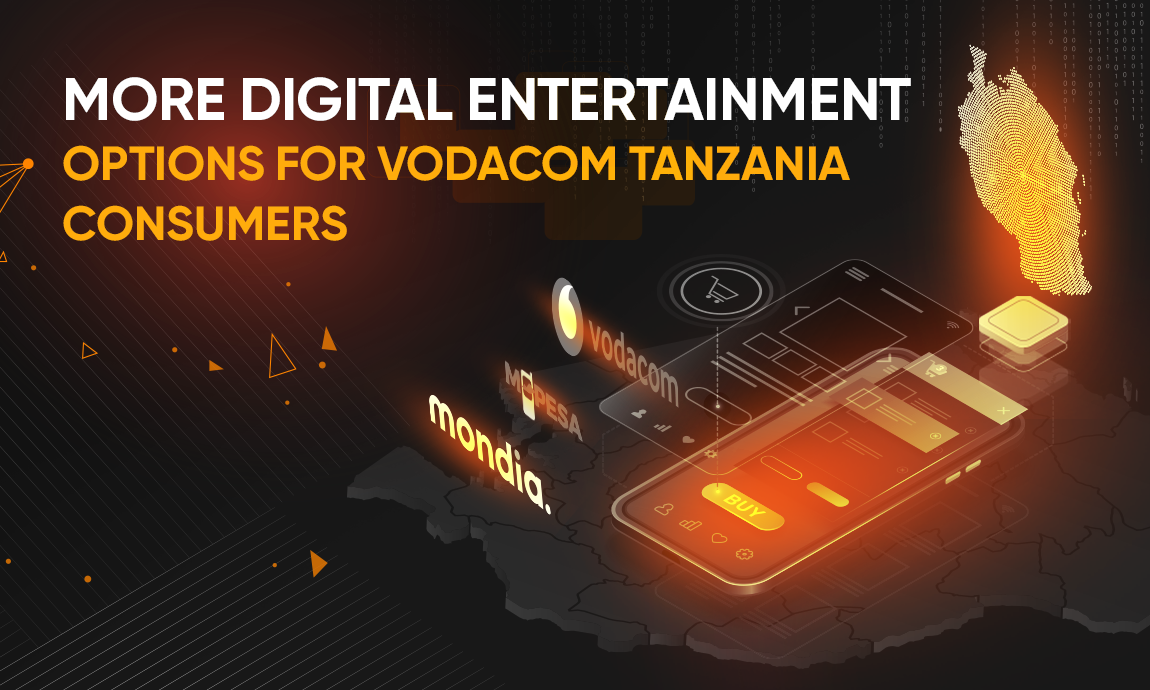 Mondia Pay gives Vodacom Tanzania customers more ways to enjoy digital entertainment
Mondia Pay expands the number of fintech options available to Vodacom Tanzania customers seeking access to digital entertainment.
The partnership between Mondia Pay and M-Pesa companies will allow residents of Tanzania to get access to Mondia's online content throughVodacom Tanzania PLC digital services network.
Fintech is exploding throughout Africa at the moment, due to the fact that electronic devices have become more accessible in many countries, as well as an Internet connection. Moreover, the coronavirus pandemic has led to a significant shift in consumer culture and online shopping, in particular, has become more popular among the population. Thus, mobile payments have become especially relevant. Based on GSM Association data, Sub-Saharan Africa accounts for approximately one-third of worldwide mobile payments.
African mobile money service M-Pesa, which is also the biggest fintech network across the continent, is now linked to Africa's top digital content company, Mondia, via Mondia Pay.
By using SMS and USSD, more than 7 million Vodacom Tanzania users may now access Mondia online content such as PlayInc., MyMuze, the Vodacom Premier League (VPL) and other media and entertainment platforms with their airtime balances.
Customers may access high-quality online content, including music, movies, and games, via the use of the Mondia Pay and M-Pesa payment options, which also provide a secure and easy user experience. Also, the partner program provides an opportunity for development in the field of fintech and the creation of creative content. Moreover, Mondia's premium partners can significantly expand the reach of the target audience, as well as the potential to enter new markets, and, as a result, increase profits.
According to Simon Rahmann, CEO of Mondia Pay, innovation in partnerships that provide users with appealing and easy-to-use consumer products will be the driving force behind the growth of fintech. Mondia Pay is very pleased with their efforts to make it possible for consumers across Tanzania to benefit from the adoption of M-Pesa as an extra payment option via Mondia Pay. They are also supporting the ongoing initiatives to make the transition to a cashless economy, which have gained considerable momentum in the last year and will continue in the future.
Furthermore, Nguvu Kamando (Vodacom Tanzania's Director for Digital Services) claims that with the latest M-Pesa feature, provided by Mondia, we have gained a new payment method that's essential to their digitalization efforts and now makes it possible for consumers to use the mobile content offered by Mondia. Using M-Pesa, a major mobile banking company with over 13 million users in Tanzania and a strong agent network across the nation, we can provide more simplicity and freedom to consumers while also lowering costs for the organization.
A brief review of Vodacom Tanzania
Vodacom Tanzania Plc is the largest mobile operator and provider of mobile transactions in Tanzania. The company's customer base accounts for more than 14.1 million customers. Mobile operator provides a range of communication services such as voice, data, and messaging, as well as digital services including cloud storage, video content, hosting, etc. In addition, the company acts as a provider of financial services and mobile solutions. Vodacom Tanzania Plc is a subsidiary of a company group registered in South Africa, which was initially owned by Vodacom Group Plc of the UK.
A brief review of Vodacom M-Pesa
Vodacom M-Pesa is a leading company in the field of financial services, which has made a significant contribution to expanding access to financial services and economic activity in Tanzania. It is also important to mention that the company has a GSM Association certificate and over 13 million users. The service allows users to withdraw and deposit funds into electronic wallets through 106 thousand agents operating all over the country. The mission of M-Pesa is to create an environment in which banks, businesses, and government services can work together and develop digital payments.
A brief review of Mondia
Mondia is a prominent mobile commerce platform that serves customers via various mobile-first technologies, such as online and mobile shopping, online reviews, customer loyalty programs, and mobile app development. Mondia connects customers with over 84 mobile network providers in 60 countries with more than 1.5 billion people. Mondia understands worldwide markets and is well positioned to use state-of-the-art technology to meet company goals while serving the end customer.
Along with personalizing online experience via its content-agnostic network, Mondia's advertising company is focused on driving and managing user acquisition throughout the customer lifecycle. Mondia Labs, Mondia's innovation centre, is accelerating the company's entrance into emerging areas such as health and developing innovative products such as Monsooq.
Mondia, which has operations in 19 countries throughout Europe, the Middle East, and Africa, is dedicated to digitalizing the world via its unique technologies, strategic alliances, and vast network and international coverage.
Detailed information about the company and its solutions is available at the link below: mondia.com
A brief review of Mondia Pay
Mondia Pay's carrier billing technology connects over 1.5 billion customers to over 84 mobile carriers across over 60 countries.
Mondia Pay is Mondia's digital payment subsidiary, which handles in excess of 2.1 billion payments each month. Moreover, the platform provides unmatched reach for the world's most recognizable brands and businesses, while simplifying and streamlining worldwide direct carrier billing and mobile payment services. Mondia Pay links top merchants such as Deezer, PubG, OSN, Huawei, and LaLiga with new consumers in several regions in which they operate. They also offer a state-of-the-art, proprietary next-generation platform that enables rapid integration through a single API. Mondia Pay also enables the smooth registration of subscribers and their end-to-end lifetime management.
Overall, we can conclude that Mondia Pay plays a significant role in expanding the opportunities for providing access to entertainment content, digital services and mobile payments to Vodacom Tanzania customers. Both of these companies are the largest players in the market and have a huge customer base, so we can confidently say that they are able to make a great contribution to the further development of increasing the digital content availability in Tanzania.