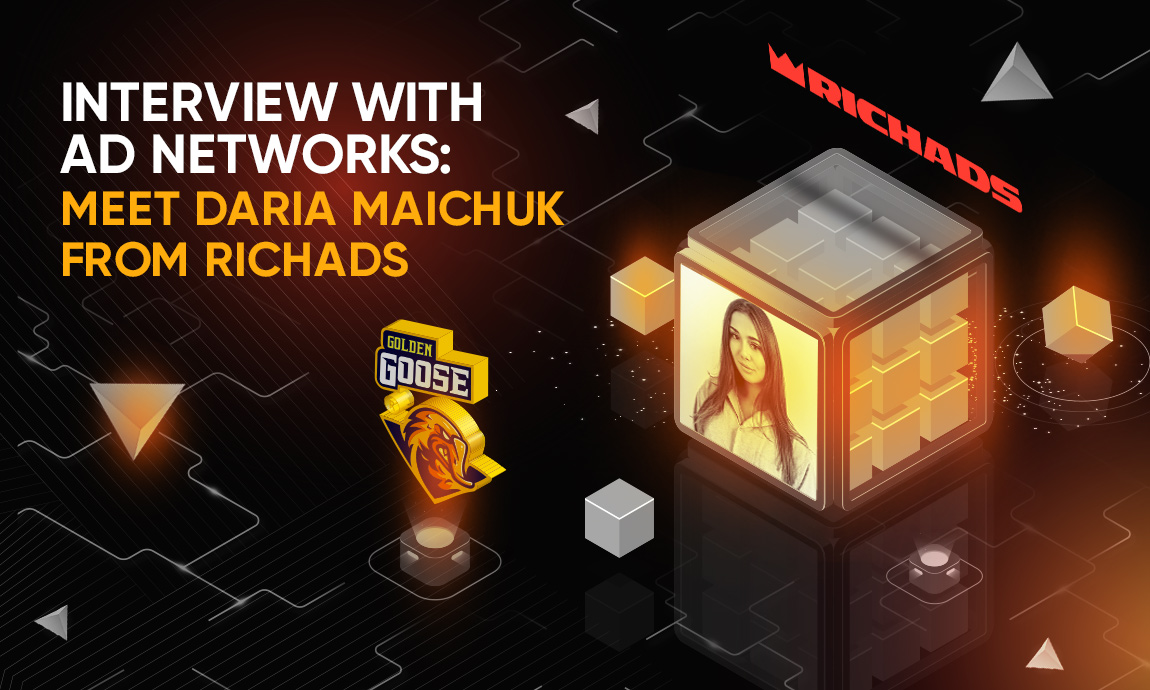 Interview with AD Networks: Meet Daria Maichuk from RichAds
We are starting a series of interviews with advertising networks, because usually we know so little even about the most famous market players, although these companies seem to be actively promoting themselves. Besides, we are talking a lot about the mVAS market and we are interested in hearing advertising networks' opinion: what they think about this industry, what share it occupies in their traffic, what restrictions novice webmasters may face when promoting mVAS offers.
1) Hi, thank you for agreeing to the interview.
Tell us a little about yourself, about the company, when it was started, how many people are there in your team, some key milestones and achievements, etc.
Hi! My name is Daria Maichuk, and I'm Head of Customer Service at RichAds ad network. RichAds is a self-serve advertising platform where scale meets performance. Our advertising formats: push, pops, in-page, calendar, domain redirect. RichAds offers 5B impressions daily in 200 countries all over the world. Also, we are constantly developing unique flagship features that save the advertisers' time and money, making work with our traffic types even easier.
2) What type of traffic do you offer and which one do you think is the most popular? What geos are currently in your network?
We are working with classic web push notifications, in-page and calendar push traffic, pop traffic and domain redirect (a new format that shows x10 higher performance than pop ads does).
The most popular format on our network is classic web push notifications. It looks like a private message or important notification from the website which appears on the screen over the other windows. Push ads can be sent to any user of mobile phone, usual desktop, laptop, and tablet. In other words, to any device with a browser and Internet connection.
From our side , push notifications have a lot of advantages.One of the pros is the voluntariness of subscription. Unlike other ad formats, users agree to get ad materials by themselves. It means that they will be more loyal to the offers. The audience of push ads consists of real people who subscribe to push ads independently.
Also, we hardly recommend testing a brand-new format – domain redirect traffic. It works 10 times better than pops and you can engage fresh audience.
What concerns GEOs, we work all over the world in more than 220 countries around the world. Our top GEOs are related to top verticals.
3) Tell us, if it's not a secret, which verticals are the most popular in your network and for which of them do you think your traffic is most suitable?
Each month our team shares the last information about what works best in the ad network. The most popular verticals on the platform are antiviruses, gambling, crypto, utilities (software), and betting. In March, the most popular verticals are gambling, betting, antivirus, and dating.
Here are the verticals + Top GEOs:
mVAS: RUS, KEN, GHA, KAZ, ROU, SAU, EGY
Antiviruses: JPN, BRA, MEX, USA, CAN, GBR, DEU, FRA, AUS, CHE
Utilities: PHL, THA, CAN, USA
Crypto: ITA, DEU, PHL, IDN, CAN, AUS, MYS, SGP, SWE, ZAF
Gambling: UKR, DEU, CAN, THA, IDN
Nutra: THA, IND, IDN, PHL, BGD, MYS, ITA, SGP
4) What is the share of mVAS offers among advertisers now? Maybe you can share some figures and volumes?
mVAS usually offers work on a subscription or one-time payment basis.
These offers are usually based on direct or SMS billing. WAP-clicks are about the same things too.
We have up to 90% of mobile traffic on push notifications and up to 60% on pop ads on our network. That's why these offers are trendy.
5) If we talk about the traffic that is in the greatest demand for mac offers, then which formats are these mainly and which geo?
The most suitable formats for mac offers are calendar traffic and in-page traffic. As with other formats, we have the most volumes with android traffic. The most popular geos for calendar push ads are USA, DEU, GBR, JPN, ITA.
6) Are there any restrictions when working with mVAS offers?
No need to explain that if you are going to run mVAS offers, you need some mobile ads for a start.The creatives should be adapted for mobile. We don't have any other restrictions for these offers.
7) Since our interview will be read by many novice affiliates, maybe you could tell us the right way to start working in your network? How can beginners avoid the most common mistakes?
We have great customer care managers on the platform. They will check the settings of the campaigns and will give you recommendations on how you can set up your first campaign correctly to achieve the best results and also will provide you with black- and whitelists for your campaigns upon request. We recommend starting your tests only with Premium Subscribers lists as they have the best CR and the best quality on the platform.
It will be better to have different campaigns for each device as mobile and desktop have different CPC.
We have 3 types of accounts in our network (Rookie, Professional, and King). Choose at least a Professional one (deposit starts from $500) to get expert support and cool features expertise from our team.
8) One of the most popular formats for working with mVAS has always been Push and Pop traffic. Maybe there are some recommendations when launching campaigns with this type of traffic?
If we are talking about push notifications, we can recommend changing creatives once 3-5 days to keep CTR at a good level. For both these formats, we recommend starting only with Premium Subscriber lists to achieve good results faster.
Apart from regular campaigns (with manual settings), we have the opportunity to launch target CPA campaigns. These campaigns will be optimized automatically, and you can have good results effortlessly. Unfortunately, we have this option only for push traffic now, but we have plans to add it for pop traffic.
Moreover, each advertiser should test our flagship features (Target CPA, Micro bidding, and Automated rules). They help to get the highest possible ROI, add different bids for different parameters of one campaign and save time you spend on manually optimization.
9) As you probably know, advertisers with mVAS offers put high demands on the quality of traffic. How do you control the quality of traffic provided by publishers to your network?
Our company has a department of traffic managers who check the quality of the traffic on a daily basis. In addition, our sources are categorised. You can run the campaign with a premium category and be assured of the quality of our traffic. The Premium categories are the sources with the highest CR on the platform previously tested and checked by our team. Our ad experts are constantly checking the quality of traffic to form the Subscribers Lists Groups as effectively as possible.
Moreover, our traffic is verified by Adscore (world-famous platform that protects 1B impressions per day for leading advertisers and ad networks). So, you can be 100% sure that RichAds traffic is bot-free.
10) In 2022, which advertising formats do you think will grow in popularity, and which, on the contrary, will become a thing of the past?
We are sure that the popular formats in 2021 will keep their positions.
But don't forget about new formats. For example, we have domain redirect traffic (also known as zero-click or parked domain traffic). Now it shows x10 higher performance than pop traffic does.
The future is for traffic sources that provide users with AI automatic optimization instruments to save their time and money and give them time to test as many sources as possible.
11) In your opinion, will the mVAS vertical grow with your traffic next year? Perhaps you will be able to offer special solutions for it next year?
The biggest advantage of our company is its constant development. We have connected many new formats to the test in the past years. We are also constantly increasing our volumes and adding new premium Subscribers lists. We are sure that these offers will develop on the platform, and we will do our best to give the best results.
Also, we are developing more and more AI features that make our network one of the most innovative on the market.
12) At the end of our interview, can we also make a top-up bonus for our blog readers?
We are open to offer 10% bonus for the first deposit. Just use promo code GGAGENCY and launch your first campaign. Register now!
13) Thank you for your time, it was nice talking to you!
Thank you! It was a pleasure to talk with you!