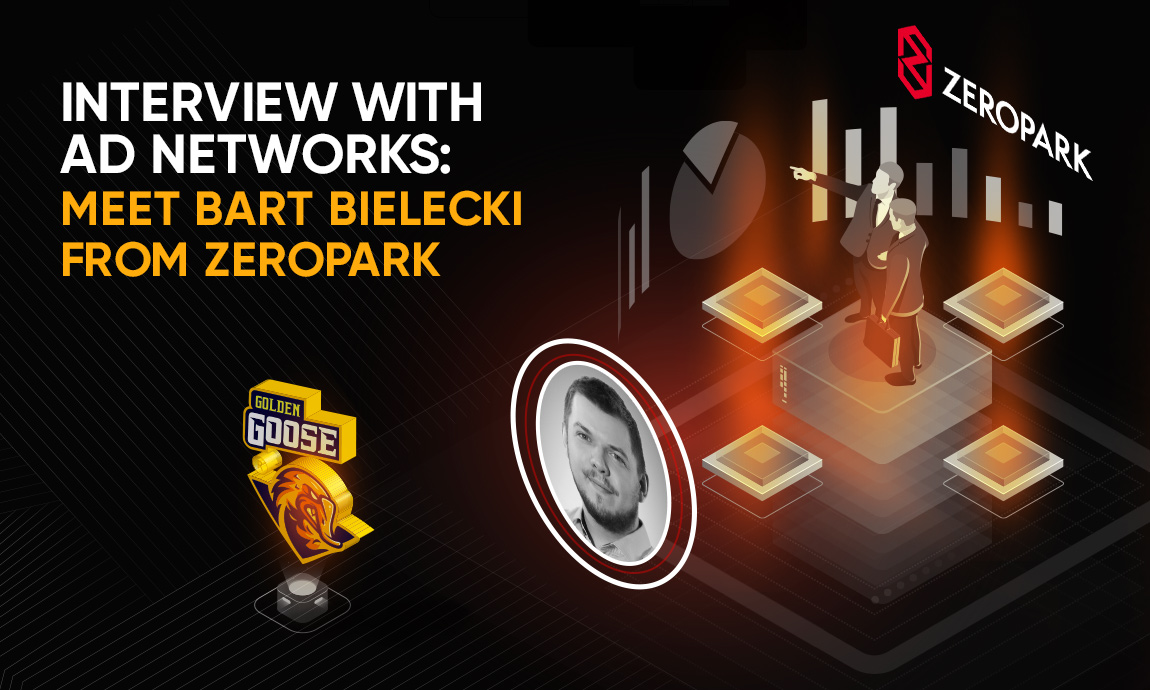 Interview with AD Networks: Meet Bart Bielecki from Zeropark
1) Hi, thanks for agreeing to this interview. Tell us a little about yourself, the company, when did you start, how many people are on the team, some key milestones, and achievements, etc.
Hello!
My name is Bart and I'm the Head of Marketing at Zeropark.
Zeropark was created in 2011 by Codewise, a Polish company founded by a veteran affiliate marketer — Rob Gryn. Since then, we've vastly expanded in size and experience. We started with domain redirects and added new ad formats as we grew. And trust me when I say we've grown a lot. In fact, we were named among Europe's fastest-growing companies for three consecutive years by The Financial Times, ranking 2nd in 2017.
In late 2020, we opened a new chapter in our history by being acquired by CentralNic Group PLC.
I've personally joined Zeropark over 4 years ago and had an opportunity to build its marketing team from the ground up. The Zeropark team now counts ca. 50 people, while the entire CentralNic Poland (formerly known as Codewise) employs around 200 professionals.
2) What type of traffic do you offer and what do you think is the most popular? What geos do you currently have in your Network?
We offer three types of traffic: pop, push (including in-page push), and domain redirects. Push is currently the most popular. Our traffic comes from all over the world. You can check the available volumes for each country in our traffic calculator.
3) Tell us, if it's not a secret, which verticals are the most popular in your network, and for which of them do you think your traffic is most suitable?
Among the most popular verticals in Zeropark are e-commerce, downloads, sweepstakes, and gambling, but the top performers tend to change on a weekly basis. To keep up with the trends, we highly recommend signing up to our Traffic Insights Newsletter where we share weekly reports and up-to-date whitelists.
4) What is the share of mVAS offers among advertisers now? Maybe you can share some indicators and volumes?
mVAS offers used to be very popular a few years ago, but because of the growing restrictions imposed by carriers, it became a lot more difficult to advertise such offers. Naturally, this caused the wane of their popularity among Zeropark's customers.
5) If we talk about traffic that is most in demand for mVAS offers, what are the main formats, and which geo?
The main formats are pop ads with push notifications following closely behind. If I were to advertise mVAS offers with Zeropark, I'd try some less obvious GEOs, namely those belonging to the Middle East. Overall, Tier 2 and Tier 3 countries are good choices.
6) Are there any restrictions when working with mVAS offers?
There are restrictions imposed by carriers regarding payment acceptance from 3rd party sales. As long as you can meet those restrictions, the regular Zeropark campaign guidelines apply.
7) Since our interview will be read by many novice Publishers, can you give some tips on how to properly start working in your Ad Network in order to avoid the most common mistakes for beginners?
The most common mistakes can be brought down to high expectations towards results and little knowledge of affiliate marketing. Affiliate marketing is not a get-rich-quick scheme. It should be treated as an investment.
Beginner affiliates often come with certain expectations, e.g. that after spending $10 the campaigns will start bringing profit and that no extra tools are necessary to make it work. That's a false assumption and according to a survey conducted by one of the affiliate marketing forums, most affiliates had to spend anywhere between $500 to $2k before starting to make a profit. This applies to all Ad Networks, not just Zeropark.
It's crucial to understand the process before starting as well. Affiliate marketing relies heavily on data so gathering and analyzing it should be at the core of your efforts. This means that you should not only invest in raw data (without trying to immediately optimize the traffic you're buying) but also in a tracking tool.
Before you start, read as much material as you can.
8) One of the most popular formats for working with mVAS has always been Push and Pop traffic. Maybe there are any recommendations when launching campaigns on this type of traffic?
Pop and push are both great ad formats to start with.
As for pop traffic, it's the cheapest ad format, and might be the easiest to learn. Pop ads don't require a robust strategy to create a successful campaign. It's important to choose a GEO with medium volume and pair it with an offer that is historically likely to perform. While pre-landers are often not a requirement, it's highly recommended to use them or at least split test both versions.
When it comes to push traffic, it's a slightly more expensive but equally lucrative option. There are, however, additional things to watch out for. For one, creative fatigue is something that can happen not only to your landing pages but push creatives as well. It's important to watch the performance and if it starts dropping for no reason it might be time to test more creatives.
Another thing to consider is conversion delay. There might be late clicks and late conversions coming in and while this is not something to worry about, you need to account for delays when looking at your data.
9) What advice would you give to a Publisher who has just registered in your network and wants to launch mVAS offers? Where to start and how to act in order not to lose the budget?
I would recommend spending some time reading our product documentation. We have plenty of informative materials that can help guide a beginner through the process of not only picking the offer and pairing it with suitable GEOs but also through launching, optimizing, and finally scaling a campaign.
We also offer personalized and free 30-day long onboarding for each new Zeropark member, so after choosing the offer, the next step is to message the support team and schedule your first call. During the onboarding process, beginners receive a full walkthrough of the platform as well as information specific to the vertical they're most interested in.
The support team is there to help, so even after the onboarding process, you can reach out to receive tips and whitelists.
10) As you probably know, mVAS offers advertisers have strict KPIs for traffic quality. How do you control the quality of traffic delivered by publishers to your network? How not to get adult for MENA offers with mainstream traffic or encounter bot traffic?
Zeropark offers extensive bot filtering capabilities. We use both in-house and 3rd party solutions for bot prevention, and also employ an in-house Compliance team to perform manual checks and continuously monitor the traffic quality. Our traffic is also filtered according to our clients' needs so you won't buy adult traffic unless you specifically choose to.
11) Which ad formats do you think will become popular, and which ones, on the contrary, will become a thing of the past in 2022?
Domain redirect traffic will remain stable, while push will keep growing as the industry shifts towards more white-hat advertising. When it comes to pop, as much as I don't expect it to grow given some offers' restrictions regarding this traffic, it will remain a solid choice for beginners learning affiliate marketing and those looking to scale proven pop campaigns.
12) In your opinion, will the mVAS vertical grow in your traffic next year, and perhaps you will be able to offer special solutions for it next year?
Because of the growing carrier restrictions, the mVAS vertical might experience a slower period of growth. Nonetheless, the traffic is there and our account management team knows exactly what to do to get optimal results.
13) At the end of our interview, can we also make a top-up bonus for our blog readers?
Sure! Register to Zeropark and make your first deposit using the code GG10 to get a 10% bonus. Extra credits will be automatically added to your account.
14) Thank you for your time, it was nice talking to you!
Thank you, too! Hope your readers will find the information useful. And remember, the Zeropark Team is waiting for you, so let's get you on board!