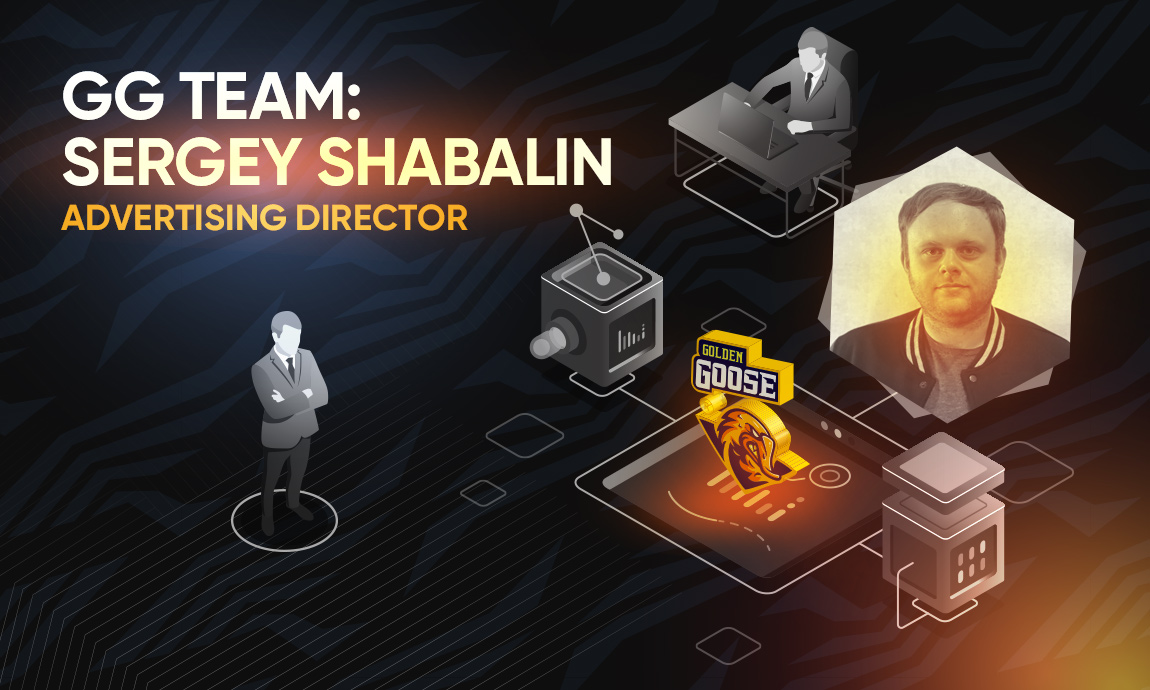 GG Team: Meet Sergey Shabalin, Advertising Director at Golden Goose
A company is its employees. Today, we want you to meet someone special: Golden Goose's Advertising Director. Sergey Shabalin is the head of the team that works with advertisers and content providers, offering our partners the best, most timely support.
Here are Mr. Shabalin's thoughts on the future of the mVAS (mobile content) vertical, attractive GEOs for advertisers, and life hacks for affiliates.
— Tell us a little bit about your responsibilities in Golden Goose and what your team works with. How long have you been a part of the Golden Goose team?
I joined the Golden Goose team on 18th November 2019. My initial goal was to develop a Tier-1 direction: add new foreign advertisers and new fantastic offers that our beloved affiliates would appreciate. Together, we earn on such offers right now.
In 2019, the primary focus of Golden Goose was the CIS market which is totally understandable since, historically, GG has been the most significant player in the market (and still remains such.) And now, modesty aside, we can name ourselves a leader among affiliate networks in the mobile content vertical. 
Then, almost three years ago, I was the only manager in our team to work with advertisers. There are five of us today, and it's not the limit. An advertising manager must perfectly navigate through the mVAS market of each individual country (we have more than 70 countries right now.) They must understand the flow specifics, carriers' and regulators' rules, know the key market players, and, of course, keep an eye out on the latest news on the market they are responsible for.
However, the manager's routine doesn't consist exclusively of a friendly chat with a content provider but also of mitigating sharp and sometimes conflicting situations. I won't share the particular examples, but believe me, there are a lot of 🙂
Overall, my duties as a leader are very similar to those of my team colleagues. Each of us is dedicated to our job, dear affiliates, and beloved Golden Goose!
— What are your thoughts on the future of mVAS and DCB? Is there a possibility that it will spread to new markets and become massive somewhere unexpected?
mVAS is a totally unpredictable niche and radically different from any other vertical in terms of its scalability capacity. 
For example, at any moment, a video streaming brand (say, an online video service) connects to an operator of any country. If the flow is good, the effect will be bombastic. Just imagine: you need to click only one button to make a deposit! No entering credit card details, verification, etc. Just one click and the payment is made, the money is taken from the mobile phone account, everyone's happy!
Or any other vertical might find its own unique approach to mVAS and will be able to connect to an operator creating a precedent that will inspire the masses.
If we look at different analytical predictions, such as articles on Telemedia and anti-fraud system reviews, we can undoubtedly conclude that the market is in its growth phase. More and more carriers try to connect good quality services that will be useful for end-users and allow earning for the operator and us.
 — Is there a chance that mVAS will disappear as a vertical in the future? 
Speaking about the disappearance of the whole vertical, we need to understand that mobile operators will disappear together with mVAS since all the mVAS services bring a lot of profit to carriers. And MNOs disappearing is impossible to imagine; I don't think we'll live to witness this. 
There are cases when a carrier shuts down all the mobile subscriptions. Sometimes, all the operators in a region shut down mobile subscriptions, as happened in 2019 in Italy. However, we must understand that it always concerns a selected circle of services, carriers, and countries. It's crucial to remember that it's temporary, that there is an enormous choice of other countries and operators. Everything will be fine 😉
— In your opinion, which countries are the most interesting for advertisers right now? And for affiliates?
The countries an advertiser should pay attention to are the countries that the advertiser has an opportunity to connect to. It also matters which flows and operators are used, if there is any freedom in landing design, and what kind of anti-fraud is present. There are many nuances. 
For instance, we can say that South Africa is a top region at the moment. It has been the most active region in mVAS for the past two years. But we also shouldn't forget about the competition and the top players already present in the market. Making the tops go away is very hard, better to say impossible. And is it worth it?
My advice: don't try to be somewhere fully occupied. Make acquaintances with aggregators, and don't be afraid to explore new markets, even if they seem weak or inactive. Now, Nordic countries, Western and Eastern Europe are considered such markets.
Peru, Mexico, Brazil, Chile, and the whole Latin America region are the sweet spot, and there are several reasons for it. 
First, Latin America is enormous. The size of the subscriber base is millions of users. There is an abundance of traffic and a great variety of countries, carriers, and flows.
Second, the opportunities for Adult products are extensive. This content category is in demand in the region; carriers don't ban such content. Plus, flows in LATAM are more accessible than in European countries with a developed Adult mobile content niche, such as Switzerland and France, where the flow is MO.
Third, the flow in LATAM is click flow, sometimes even 1 click, which is tempting for affiliates.
— Why is it profitable for advertisers to invest in the mobile content niche?
The field of mobile content is attractive, first and foremost, due to the market size and the accessible entrance. It's easier to find cheap traffic for mobile content instead of Google or SEO traffic for gambling. As a general rule, mobile services have an easy flow (Click, PIN), letting them convert even with the cheap traffic such as Pop or Push.
The mobile subscription market is highly dynamic; there are always new GEOs, new flows, and an abundance of content to choose from, which you can purchase and connect (if you don't have your own content, of course.)
It's generally profitable for advertisers to invest in developed, extensive, and dynamic markets, and mVAS is one of such markets.
— Why is mVAS as a vertical profitable for affiliates?
Firstly, the «cheap» entrance. To understand crypto or find a bundle in gambling, you need to spend a solid budget, and it's not guaranteed that you'll earn anything. Our vertical is more straightforward: for a test of one bundle, you often need only $5-10. If you find a working bundle, you'll be able to promote it in different networks, making a profit of x20-40 and even more.
Secondly, We (both Golden Goose and the mVAS niche in general) don't have holds or test runs like in gambling as a concept. If you see a lead in your stats, you can be sure you'll get paid for it. The only exception is the cases when an advertiser or a carrier accuses your traffic of fraud and refuses to pay, but this is really an exception.
Thirdly, Push/Pop traffic is an elementary source for traffic purchases compared to Facebook and Google. You need to farm accounts, use them, and make tons of manipulations before launching an ad account. With Google/Facebook, you might also face an account ban without any clicks received.
We make it simpler: create an account in one of 40 of our partners' traffic networks, download a tracker (for instance, BeMob, which has a free cloud rate,) send $30 to something like PopCash and start earning.
These excellent tracker tools kindly shared promo codes for the services. All the trackers work similarly, so choose the one with the interface you're comfortable working with.
Use the promo code GOLDENGOOSE25 to receive a 25% discount for the first free months of use in BeMob.
Use the promo code GOLDENGOOSE to get a 30-day free trial and a -40% discount in Binom.
Use the promo code GOLDENGOOSE for a -20% discount on any subscription plan for three months in Keitaro. The promo code is valid only for the first-time users.
Use the promo code GOLDENGOOSE for a -$50 from your subscription in CPV Lab Pro.
— How would you evaluate Golden Goose's path as a company? How do we develop?
I can't reveal numbers for obvious reasons, but from the moment I joined the team until today, we've seen more than 20x growth. Many factors influence our growth: the growth of the affiliate department that has seen many competent specialists who I proudly call colleagues, the flawless work of the finance department, the rise in the number of quality offers, and, for sure, the strong leadership of our founders.
In general, the way of any affiliate network is dynamic. Today you're on top, and another day you're screwed. An affiliate network is concordant and successful only if the whole team works like an orchestra and is aimed at constant growth. If we stay at the same place, that's moving backward. Like any other business, there are bad times for GG, but our team can manage them quickly and easily.
— What is the most exciting episode in your GG career?
There are many interesting cases. We communicate daily with the whole world, different cultures, traditions, and humor, so it's hard to highlight just one thing. I might name interesting the days when a new GEO or a new advertiser suddenly starts to highly convert. Then, you can watch the stats forever, constantly updating it and sharing the emotions with colleagues 🙂
— What is your main fuck-up in Golden Goose?
I think that if there was something severe, you would be interviewing someone else 🙂
Any major fuck-up is connected to money loss, and we have very few such cases. Sure, there are failures to pay from advertisers, and there are unjustified cases of non-payment, which I personally call scams, but these are part of the routine for the advertising department.